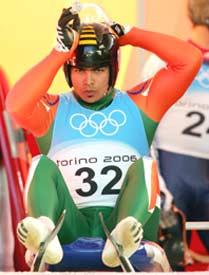 India's campaign in the Winter Olympics began on a sour note after its medal hope Shiva Keshavan pulled out of the opening ceremony citing apathy and incompetence of officials accompanying the Indian contingent.
Keshavan, due to participate in the Luge event later in the day, was slated to be the flag bearer of India but was shocked when he was informed of "a change in plan" at the last minute before the ceremony last night in Turin, Italy.
A dejected Keshavan said he boycotted the ceremony as a sign of protest against the officials who have "always discouraged me from continuing the sport and disclaiming responsibility for any training and travelling expenses and eventual mishaps and nonetheless shamelessly showing up to the Olympic village upon my qualification."
Without naming the Winter Games Federation of India, the luge athlete also alleged that the officials were responsible for stealing and diverting funds sanctioned for him or for luge in favour of personal gain.
"The incompetence of the organising personnel that have done nothing to provide the basic services needed for athletes for the Olympic Games" had forced him to take the step, he said in a statement.
Keshavan, one of the four-member Indian contingent participating in the sporting extravaganza, however, said he would try to leave behind the unsavoury incident and concentrate on his event ahead.
PHOTOGRAPH: AFP/Getty Images