At the end of every Olympics, we glance at India's showing and wonder what went wrong, why we failed in spite of sending such a big contigent.
Just three individual medals in the last three Olympics for the second most populous country in the world does not speak much at all of our sporting achievements.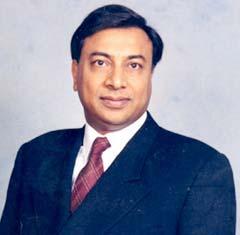 A few days before every Olympics there is an air of expectation in the country.
A few days after the Games, there is national gloom as our Olympic dreams die a dismal death.
For the next four years, there is nothing at all -- the athletes are left on their own, till one of them breaks into the headlines by winning a medal at an international event.
Anju Bobby George became a national heroine after her bronze medal at the World Athletics Championships in 2003. Rajyavardhan Singh Rathore was virtually unknown till his silver medal at the Athens Olympics. 
Some unlucky ones who miss a medal by a whisker or fail in spite of their best efforts are ignored.
Does anyone remember J J Shobha, who defied pain to finish a creditable 11th in the heptathlon at Athens, in which she competed in the 800 metres despite a ligament injury.
What are India's plans for the 2008 Olympics or the 2006 Asian Games?
Well, you won't get an answer from our sports ministry, but hope beckons in the form of a steel tycoon based in the United Kingdom.
Lakshmi Narain Mittal (above), chairman and chief executive, Mittal Steel Company, announced the launch of the Mittal Champions Trust in Mumbai on Tuesday with a view to improve India's showing in major competitions like the Olympics and Asian Games.
The Mittal Champions Trust, which will invest a whopping Rs 40 crores or Rs 400 million, has been set up to identify, support and enhance the performance of talented young Indian sportspersons.
"I am very excited to launch the Trust. I was at the Olympics in Greece last year and I was disappointed to see a country with more than a billion people winning just a single medal. If a small country like Lithuania won a single medal, then we can certainly do better. We have talent, it is just the question of identifying it and nurturing it in the right way," the richest Indian in the world said.
The Trust, Mittal added, would help improve Indian performances at events, starting with the 2006 Asian Games in Doha, followed by the 2008 Beijing Olympics, the 2010 Asian Games and ultimately the 2012 Olympics in London.
The Trust has already enlisted its first athlete, squash player Joshna Chinappa, runner-up at the World Junior Squash Championships in July.
"To start with, we will pick 10 athletes and then send them for training in India or abroad as and when required,"  said US Open mixed doubles champion Mahesh Bhupathi, who is one of the Trustees. "We have contacted Pankaj Advani (snooker), Shikha Tandon (swimming) and Anju Bobby George and we are awaiting their response."
Chinappa, 19, is obviously delighted with the idea, which she feels will help realise her dream of being a top squash player.
"I am looking forward to working with them," she said. "Such an initiative helps motivate people, specially in squash, which is not as popular as tennis."
"Training and playing around the world is quite expensive," she added, "but thanks to Mr Mittal I do not need to worry now. I plan to train and live in Amsterdam and coach under Liz Irving, who coaches a lot of top players."
Chinappa, currently ranked 60th in the world, believes she has a good chance of winning gold at the 2006 Asian Games if she gets the right training and competitition.
The Trust, which will flag off on November 15, includes Indian cricket captain Rahul Dravid as one of its trustees.
The advisory board includes athletics coach Bobby George, Anju's husband, and former All England badminton champion Pullela Gopichand.
The board will help identify talent, advise on training and travel schedules and be hands on in the grooming process.
If the Trust proves successful, Mittal said, then the number of athletes would be increased.
"The idea is to create a pool of talent, to enable them to be on top of their sport," the steel tycoon added.
"We have always promoted sports in various countries. Now is a chance to promote sports in our country," Mittal, who still has an Indian passport though he has lived abroad for many years, said.