Sania Mirza still has a long way to go before her tennis credentials can be compared with Wimbledon champion Maria Sharapova.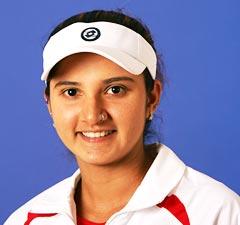 Off court, however, Indian Mirza has got plenty in common with her fellow 18-year-old.
Mirza has already had a taste of the celebrity that surrounds Sharapova even though her greatest achievement to date is to reach the third round of the Australian Open in January and to win a low-key WTA tournament in her hometown of Hyderabad.
That she was the first Indian woman to accomplish either feat has sent her popularity soaring among her one billion compatriots.
In five months, she has become a sporting idol, a fashion icon and like Sharapova, needs her own entourage of burly security guards whenever she steps out from the confines of her own home.
"The attention fazes me everywhere," said Mirza after she marked her debut appearance in the main draw at Wimbledon by becoming the first Indian woman to reach the second round on Monday.
"It's a tough life. It's very busy ... it's very different.
"I think in India they have not had a woman [in sport] in something so big, and people are very excited. Suddenly, when I go out, I need security.
| | |
| --- | --- |
| | Also Read |
| | |
"You know, it's something that you cannot ... it's not in my control, what people expect from me. They probably expect a lot more than what I can actually do.
"But do I think it's fair, no, but there's not much I can do about it," she added after overcoming Japan's Akiko Morigami 6-3, 3-6, 8-6.
"It wasn't that today at 6-6 [in the final set] I was thinking, 'Oh, people back home expect me to win this match'.
"It was that I have to win it because I want to win it.
"Even if I would have lost the match, to be honest, I would have been equally satisfied because I gave 120 percent out there."
Such is Mirza's drawing power, she has also managed to do something that was once thought impossible in India -- take some attention away from cricket.
Despite the ever-growing demands on her young life, Mirza has been quick to master the responsibility of being a role model.
"I think that's one thing that really satisfies me is when young boys come up and say, 'I want to be a tennis player', because in India, it's been a tradition that if you're a guy, you play cricket.
"People don't even expect you to play any other sport. I like it when parents come up and say, 'I want my son to be a tennis player'.
"It's really nice that people get inspired and I just hope that we'll have many more tennis players from India coming up at this level."