Romania's male gymnasts have long lived in the shadow of their female team mates. Marian Dragulescu aims to reverse the trend at the Athens Games.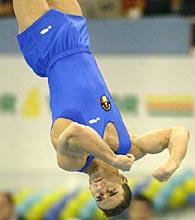 Nadia Comaneci, Ecaterina Szabo, Daniela Silivas and Andreea Raducan rose to Olympic prominence over the past two decades and Dragulescu is well-positioned to emulate them after striking gold four times at this year's European championships.
The powerful Romanian was in imperious form as he emerged victorious in the team, all-round, vault and floor exercise.
However, the Bucharest resident believes European medals mean little when compared with an Olympic title.
"My dream is to repeat my own performance in Ljubljana at the Olympics", Dragulescu told Reuters. "The medals in Ljubljana will amount to nothing without some Olympic medals in Athens."
| | |
| --- | --- |
| | Also Read |
| | |
Getting on top of the podium in Athens isn't Dragulescu's only aim as the 23-year-old also wants to perform a feat first achieved by Comaneci.
In 1976, Comaneci made Olympic history during the team competition when she recorded the first perfect 10 on the asymmetric bars.
Comaneci went on to secure six more 10s at the Montreal Games. Dragulescu has a more modest target in mind.
"I would like to perform the perfect exercise," said Dragulescu, who has already won 10 golds at world and European competitions but has so far failed to win an Olympic medal.
"A single 10 would be enough for me in Athens."