Unfancied Shamim Khan, astride a Kinetic Marvel, shocked a host of seasoned campaigners to win the Gulf Monsoon Scooter rally, which was staged along the backwoods of Thane and Kalyan, on the outskirts of Mumbai, on Sunday.
The diminutive rider struck the right balance on his scooter in treacherous conditions to beat defending champion Manjit Singh Bassan, astride an LML Vespa, by a mere 31 seconds.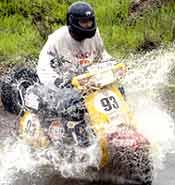 Khan finished the gruelling three-loop race, which involved 30 kms of competitive and 60 kms of transport sectors,  to win in 0:35:14 seconds. Bassan was second in 0:35:45 seconds, while Mumbai's dirt track champion Rustom Patel, astride a Kinetic Honda, placed third in 0: 36: 44 seconds.
Afzal Khan (LML Vespa) and Freddy Elavia (LML Vespa) finished fourth and fifth respectively overall.
A miscalculation on the transport sector proved rather costly for Patel. He incurred a one minute penalty for checking in early, and was shunted to third place. Had he not made that tactical error, he would have been placed ahead of Bassan.
"It was a tough route, but I am happy I won. This was the first time I participated in a scooter rally," said the 19-year-old Khan after his victory.
Thirty-one riders took the start after they were flagged from the precincts of the Gulf Oil office in Thane. Their real test began after they hit dirt terrain. It did not rain heavily during the rally but the rain over the previous days and a couple of light showers during the rally rendered the course dicey. It was enough to bring out the best in both man and machine.
Riders had to exercise utmost caution in the slush to stay astride on their vehicles. Negotiating the many hairpin bends that organisers Sportscraft had plotted in their course too proved tough. Most of the riders took a tumble or two as they skidded on the gravel-laden curves.
Under the circumstances, Khan was undoubtedly the best of the lot. The experienced riders like Afzal Khan, Ilyas Bham, Freddy Elavia, Bassan and Rustom Patel could do little to stop him.
While Shamim also took the first prize in the 80 cc to 110 cc category, Bassan was best in the 110 to 160 cc category. Shailesh Gala (Kinetic Honda) won the upto 160cc-four stroke class.
Harshal Gadkari, who finished second in the up to 160 cc category, was adjudged the best first timer.
The event drew all round applause from the participants, who appreciated the route, though some of them found it a bit easy.
Last year's champion Bassan said he knew that a lighter scooter, like the Kinetic models, would win this time as there were less uphill areas to be covered.
And, yes, some did have a grouse: that it did not pour during the event!
Results:
POSITION
PRIZE
COMP. NO
NAME OF THE WINNER
MAKE
TIME
OVERALL WINNERS
1ST
TROPHY + RS.5000/-
75
SHAMIM KHAN
K. MARVEL
0:35:14
2ND
TROPHY + RS.3500/-
94
MANJIT BASSAN
LML VESPA
0:35:45
3RD
TROPHY + RS.2500/-
77
RUSTOM PATEL
K. HONDA
0:36:44
4TH
TROPHY + RS.1500/-
76
AFZAL KHAN
LML VESPA
0:37:19
5TH
TROPHY + RS.1000/-
95
FREDDY ELAVIA
LML VESPA
0:40:08
CLASS S-1 ABOVE 80CC UPTO 110CC - TWO STROKE
1ST
TROPHY + RS.2000/-
75
SHAMIM KHAN
K. MARVEL
0:35:14
2ND
TROPHY + RS.1250/-
77
RUSTOM PATEL
K. HONDA
0:36:44
3RD
TROPHY + RS.750/-
92
DINESH ADSARE
K. HONDA
0:41:29
CLASS S-2 ABOVE 110CC UPTO 160CC - TWO STROKE
1ST
TROPHY + RS.2000/-
94
MANJIT BASSAN
LML VESPA
0:35:45
2ND
TROPHY + RS.1250/-
76
AFZAL KHAN
LML VESPA
0:37:19
3RD
TROPHY + RS.750/-
95
FREDDY ELAVIA
LML VESPA
0:40:08
CLASS FSG UPTO 160CC - FOUR STROKE
1ST
TROPHY + RS.2000/-
70
SHAILESH GALA
HONDA ACTIVA
0:48:01
2ND
TROPHY + RS.1250/-
91
HARSHAL GADKARI
HONDA ACTIVA
0:50:48
3RD
TROPHY + RS.750/-
88
ANDREW JAMES
BAJAJ SAFFIRE
1:05:08
LADIES CLASS
1ST
TROPHY + RS.750/-
79
RUHANGHIZ SETHNA
HONDA DIO
1:39:51
2ND
TROPHY + RS.500/-
BEST PERFORMANCE BY THE FIRST TIMER ENTERING IN TWO WHEELER RALLY
LATE FIRDOSH VAJIFDAR TROPHY & Rs. 1000/
91
HARSHAL GADKARI
HONDA ACTIVA
0:50:48
Photograph: Deepak Salvi