Schumacher wins Hungarian Grand Prix, world title
Michael Schumacher won his fourth world drivers' title and a record-equalling 51st grand prix by easing his Ferrari to victory in Hungary on Sunday.
Schumacher, who started on pole position, was never troubled once team mate Rubens Barrichello overtook McLaren's David Coulthard at the start to slot in behind the German.
Britain's Coulthard, 37 points behind the defending world champion at the start of the race, took over second place after an excellent pit stop 32 laps into the 77-lap race.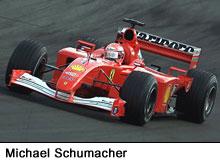 But Barrichello recovered his position after his second pit stop and Schumacher, sitting on a healthy lead, cruised to his seventh victory in 13 races this season.
Schumacher, who won the famous Italian team's first title since 1979 last year, equalled Frenchman Alain Prost's record of 51 wins. Prost also won four world titles, one less than Argentina's Juan Manuel Fangio in the 1950s.
Ferrari's 1-2 also sealed the constructors' championship with four races of the season left.
Back to top
(c) Copyright 2000 Reuters Limited. All rights reserved. Republication or redistribution of Reuters content, including by framing or similar means, is expressly prohibited without the prior written consent of Reuters. Reuters shall not be liable for any errors or delays in the content, or for any actions taken in reliance thereon.