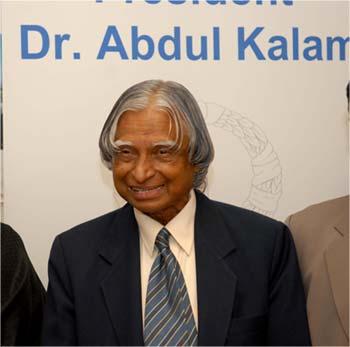 Having successfully steered India's missile programme, former president A P J Abdul Kalam now wants to guide the country's primary education.
Speaking at a large Indian gathering in Bay Area, Kalam said he was now working on how to change the primary school syllabus in the country.
"The primary school education has to be changed. It must be changed to help kids be more creative," said Kalam, who was scheduled to deliver a speech on India's prospects for a knowledge economy, but instead spoke of his vision of India and what people can do to achieve it.
In a motivating speech that was frequently interrupted by applause, Kalam said three people play a very important role in a child's life -- the father, mother and the primary school teacher.
 He said it was the responsibility of these three to instill and build confidence in a child.
"If a child becomes confident, the citizen becomes confident. If a citizen becomes confident, the nation becomes onfident," said the President who arrived in Bay Area on Monday.
Kalam said one of the questions he would explore during this visit is "What happens to people when they cross Atlantic Ocean? They change. They change in their profile, they change their dream, they change their way of working and they change finally in succeeding and become champions of success."
He said he asked this question to his friend CISCO Systems CEO John Chambers, who explained that the US worships best performers and people are not afraid of failure.
Kalam said it reminded him of a great piece of advice from his mentor Prof Satish Dhawan who had once told him, "The problem should not become the captain. You should be the captain and defeat the problem."
Known as the "people's president", Kalam said India was on an ascending economic trajectory and he was confident that India will become a developed nation by 2020. But it will be a developed nation that is based on a value system that is rooted in its rich heritage.
Laying out his vision for the country, Kalam said that by 2020, India will be a country where the rural and urban divide is reduced to a thin line. It will be a nation where there is equitable distribution and adequate access to energy and quality water, a nation where education is not denied to anyone because of societal and economic reasons.
Kalam received one of the largest applause when he said he saw India as a nation "that is the best destination for the most talented scholars, scientists and industrialists".
The event, jointly hosted by Indian Institute of Science Alumni Association of North America, the Pan-IIT alumni and TIE (The Indus Entrepreneurs), was held at the India Community Center.                                                              
Text: PTI | Photograph: Paresh Gandhi