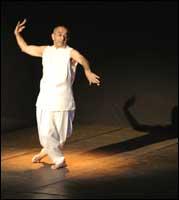 The silence at Mumbai's Prithvi Theatre is deafening as dancer-choreographer Astad Deboo sends out instructions to a group of performers from the Chennai-based Clarke School for the Deaf.
Sound holds no significance either for the teacher or the students. For, "the entire piece is divided into counts of eight," says Deboo.
It's an experience to see Deboo's students dance to the 'tunes' of sign language.
The group performs Contraposition, a rhythmic expression of Navras (nine emotions of life) at the Prithvi Theatre at 9 pm on Tuesday and also on September 28 and 29 (6 pm and 9 pm).
Taking Bharata Natyam as the base, Deboo has taught the group to blend all the emotions in its composition. "Though Contraposition is about all nine emotions, I have deliberately blended one emotion with the other so that it does not look jarring. What emerges thereafter is an effective juxtaposition of humour and pathos, anger and devotion," says Deboo.
From Mumbai, the group will travel to Malaysia and Singapore after which it will set out on an extensive tour of India.
Contraposition was performed at the 20th Deaf Olympics in Melbourne this year. "In fact, it opened the Olympics' cultural festival," adds Deboo.
Time has enriched the style and nuances of the dancer whose journey in the world of rhythms began with a solo performance at the same venue where he rehearses today in 1978.
Deboo started working with the deaf 16 years ago, satisfaction being the only incentive. "Nothing can be more rewarding than to see these young people overcome the challenges of life and wowing people with their performances. The satisfaction that I derive out of projects like these beggars any award," reasons the dancer, who was honoured with the Sangeet Natak Akademi Award for Creative Dance in 1995.
Amalgamating the classical traditions of Kathakali and Kathak, Deboo has lent them a contemporary western touch. What has evolved thereby is an inimitable Astad Deboo oeuvre, brilliant in style, unique in presentation.
Exhibiting rare spontaneity, the dancer has treaded the cultural world of the East and West, assimilating the best from the both. One of his future projects is called Rivers wherein he teams up with two hearing impaired Kuchipudi dancers and two deaf performers in Washington, DC to give expression to Amir Khusro's work.
If everything goes well, Deboo plans to bring Rivers to India soon.
Life so far has been a tapestry of experiences for the dancer. He has tasted bewildering variety of traditions, styles and techniques, taking classes and performing to earn his keep. Ask him about his experiences and he would tell you how he and his group of martial art-skilled boys was mugged at a Sao Paulo hotel in Brazil.
As a robber frisked Deboo for money and valuables by making him lie down on the hotel lobby, one of his group members thought he was having an early morning massage!
Every new project is an exploration for the dancer, every new composition a journey. During his long career, Deboo has come across many "bright young faces very sharp at adopting my style and postures."
Does he see a protégé in them? The dancer answers in the negative. "Not at the moment. I am up to my neck in new projects; generating new ideas all the time is not easy," he says.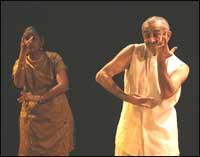 Over the years, innovation has been the key component of Deboo's compositions. He has evolved a form, nurtured it, taken it to a height and then undone it to create a new one. Amid these changes, lack of sponsors has been a constant cause for concern.
"While corporates go out of their ways sponsoring cultural events, they don't take equal interest in performances by deaf dancers. Probably such events are not on the top of their priority list."
Is this the reason why Deboo performs more abroad than in India?
"Partly, yes. It is not easy to produce shows in India with little or no support. Performances in other countries are different ballgames altogether. There we are mostly invited by foreign authorities, consulates, festival groups etcetera and that takes the burden of finances off our shoulders," he explains.
Working with the deaf has so far been "a wonderful experience", teaching dance in sign language a "pilgrimage". Which is why he wastes no time in picking up the rehearsal session with his group after a short break.
As he summons the dancers on stage, never uttering a word, one can't just help admiring this person so much in love with silence.
Photographs: Jewella C Miranda