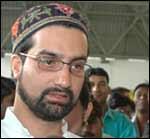 Mirwaiz Umer Farooq
led the five-member delegation of the All-Party Hurriyat Conference for a two-and-a-half hour meeting with Prime Minister Dr Manmohan Singh on September 5, 2005.
"The talks were good and held in a conducive atmosphere. In fact it was beyond our expectations," Mirwaiz told Senior Associate Editor Onkar Singh in an exclusive interview on Tuesday.
He stressed he was positive that the talks were moving in the right direction and was confident that the next meeting would take place after Dr Singh's visit to New York.
Holding the prime minister's gesture in high regard, the Mirwaiz revealed that Dr Singh began the talks with a Urdu couplet and reacted positively to every point raised by the Hurriyat.
Just who is Mirwaiz Umer Farooq?
What do you mean when you say the talks had gone beyond your expectations?
This was our first meeting with the government led by Prime Minister Dr Manmohan Singh and his high level team.
The issue of Kashmir is very complex and very long drawn. So we were apprehensive whether we would be able to talk on so many issues or not. Will we be able to strike a chord?
But then it was nice to know that Prime Minister Dr Singh understands the seriousness of the problem. He acknowledges that whereas the problem is essentially a political one, it has its human dimension and the sufferings of the people.
When we began talks Dr Singh started off with a couplet "Lamhon ne khata ki thi, sadiyon ne saza paayee," (The fault was committed in a few moments, but the punishment has been borne for ages) he said. That set the tone for our talks and we realised that he acknowledged the ground realities.
He said we have to tread cautiously and take small steps rather then go for a big one. It is the goal of the Hurriyat Conference to contribute its own towards the peace process.
There was a time when the people in Delhi used to get irritated when a few years back we said that Pakistan was a party to the problem. Now that has changed and India and Pakistan are talking about Kashmir.
People realise that if we have to move forward then all of us have to contribute whether it is India, Pakistan or the people of Kashmir.
You said there is a difference between the talks in 2004 and now. What do you mean by it?
When you look at the situation on the ground when we started holding talks in 2004 we could see there was little hesitancy from Pakistan to support this process and so many things were being said and printed in the media.
The militants issued statements rejecting the process. Today apart from one organisation nobody is saying anything. The people are watching things closely and they wish that the peace process should move on.
Our visit has helped the Hurriyat to consolidate its position not only within the valley but also within Pakistan. Now everyone understands our perception of dialogue and that is why I say we are now on a stronger wicket than as compared to 2004.
We are now in a position of strength: Mirwaiz
I must add that the India-Pakistan dialogue is also on the right track and the confidence building measure have helped in moving forward. Our main contention is that triangular dialogue is the only way to move forward.
What was Dr Singh's reaction?
His reaction to each and everyone point that we raised was positive.
I do not remember if he even once said that such and such thing was not possible. Or it cannot be done.
He emphasised on the step by step approach and talked of the honourable and durable settlement. The basic focus is on the need to consolidate the process of dialogue.
You do not attach much importance to those who played a crucial role behind the scenes. Why?
Many people are contributing. Let us take the example of the India and Pakistan dialogue. There also many people who played roles behind the scene. Friends who helped. They helped in the past and they would do in the near future as well.
It is immaterial who said what or did what, what is important is that we are meeting.
We are now talking of consolidation and what can we suggest to Prime Minister Singh in the next meeting.
You are hopeful of a next meeting?
I am not only hopeful but confident that it would take place once Dr Singh is back from New York. That is what has been agreed on. Though the date has not yet been set up for the second round of talks but whatever happens we would go along.
But we do not want to repeat the experience of our talks with the National Democratic Alliance government. We are meeting now after 17 months. A lot could have been achieved during this intervening period.
The last time when the Hurriyat decided to talk there were threats from the separatists wielding guns. What is the position now?
There are not threats but there are some elements who are on the ground and who would like to see to it that they stifle the process. By and large the people are very much receptive to the Hurriyat's point of view.
The mood today is pro-dialogue.
The process has started moving and that is a good sign.
Moderates do not represent the people, says Geelani
What is the difference between Dr Singh and former prime minister Atal Bihari Vajpayee?
There is no difference as such. We cannot forget that it was Vajpayee who initiated peace talks. We see Manmohan Singhsahib very determined to consolidate the process. He has very good chemistry with President Musharraf of Pakistan. He understands the problem and that is why he said there could be no military solution to the Kashmir problem.
Are you satisfied with the talks?
Very much so.
When we talk of Kashmir we cannot address all the problems in one meeting. Everyone who was present said that this process has to be carried on.
We had free and frank discussions on subjects like violations of human rights, reduction of troops in the valley.
Our point of view has been received well by the Government of India and that is what matters.
Why should the PM talk to the Hurriyat?
Cynics say if truck movement was allowed across the border while India would send apples across the border we would get trucks full of explosives in return?
No. That is stretching things too far. You have checkpoints on the border. It is possible to send in the apples and they in turn would send back trucks full of flowers.
An American magazine said you are one of the leaders who should be watched in the next twenty years.
I would say why wait so long, I am here.
Is the Mirwaiz ready to rule?
Only time would tell.
At the moment we are only talking of a solution to the Kashmir problem. It is going to take time.
You are sticking to tripartite talks so where is the open mind that you have been talking about?
We are talking about an open mind in the sense that we are not insisting that India, Pakistan and Kashmiris should sit at the negotiating table tomorrow itself.