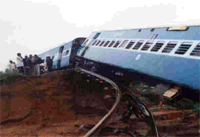 After the rail accident on Saturday in Andhra Pradesh, Army personnel and Navy divers continued their efforts to retrieve bodies from the submerged bogies of the Repalli-Secunderabad Delta fast passenger train.
South Central Railway spokesman P Krishnaiah told rediff.com that, so far, 56 bodies of the victims, brought to the mortuaries of Osmania General Hospital and Gandhi Hospital in Hyderabad, have been identified by their relatives.
The Army and Navy personnel, who resumed their operations to fish out the bodies from the mangled bogies on Sunday morning, could retrieve eight more bodies. Till Saturday night, 102 bodies were extricated from the bogies. Navy divers, who scoured the muddy waters of the rivulet, could not locate any more bodies.
The Railway authorities had shifted the bodies of 15 victims to Nalgonda district hospital and the remaining bodies to Hyderabad by a special train. The bodies were kept in the mortuaries of two general hospitals to facilitate their identification by relatives.
As many as 92 injured passengers, who were also brought to Hyderabad, have been admitted in the Railway Hospital at Lalaguda. Only three passengers are in a serious condition.
Meanwhile, the South Central Railway has ordered the statutory inquiry into the train accident that occurred at Valigonda in Nalgonda district. Commissioner of Railway Safety, R P Agarwal, would hold the inquiry at the Nalgonda railway station on November 2 and 3 and at his office in Secunderabad on November 4.
'The people who have any information about the accident can depose before the Commissioner of Railway Safety', the SCR said in a statement.
The SCR termed it an 'unusual incident of washout of Train No. 415 Repalle-Secunderabad Delta Passenger, due to flash floods between Ramannapet and Valigonda stations on Bibinagar-Nadikudi section broad-gauge single line of Guntur division'.
Due to the accident, the SCR announced the cancellation or diversion of a number of intra-state and inter-state trains for the second consecutive day on Sunday.