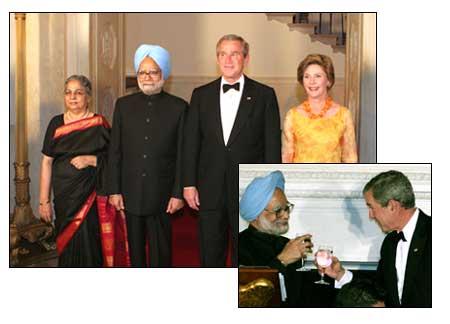 Prime Minister Manmohan Singh and Mrs Gursharan Kaur will get a taste, literally, of White House hospitality at the gala dinner tonight. The White House has a long tradition of dining table finesse and protocol, even within the pantry, that has been perfected over scores of years, and its chefs are known to be among some of the best in the country.
Interestingly, the dinner menu comes from the office of First Lady Laura Bush.
Here's a quick look at what's on Dr Singh's table tonight. In literal terms, that is a saffron silk tablecloth, topped with trumpeting elephants made of green button mums, along with floral blankets of Hot Lady roses and layered centerpieces of saffron and hot pink roses, green mums and denobrium orchids on golden tripods.
In addition, the table will have the Clinton China, Vermeil flatware and the President's House crystal pattern..
Dinner itself is a gourmet affair, starting off with chilled asparagus soup and lemon crème, to be accompanied with a Chappellet Chardonnay 'Napa Valley' 2003.
The entrée will have a vegetarian and non-vegetarian selection: Pan-roasted Halibut, Ginger-Carrot Butter, Basmati Rice with Pistachios and Currants, Herbed Summer Vegetables, Trio of Celery Hearts, Leaves and Roots. All of this will be washed down with a Hartford Court Pinot Noir 'Arrendell' 2002.
This will be followed by a salad of Bibb lettuces with citrus vinaigrette, while lotus blossom, mango, chocolate-cardamom and cashew ice creams will bring up the dessert, along with a Mer Soleil 'Late' 2001.
Bon appetit!
Music is being provided  by the Preservation Hall Jazz Band.
Photographs: Ken Cedeno-POOL/Getty Images