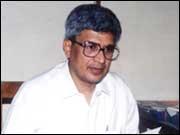 Prakash Karat was on Monday unanimously elected general secretary of the Communist Party of India-Marxist.

Karat, 56, takes over from Harkishen Singh Surjeet, who offered to step down from the post.

Karat's wife, Brinda, became the first woman entrant to the all-male politburo of the party.

The election of Karat, who hails from Kerala, came at the end of the six-day 18th congress of the party.

An ageing Surjeet, now 89, had earlier offered to step down from the post. Along with him, the 91-year old former West Bengal chief minister Jyoti Basu had also offered to quit the politburo.

Both leaders were, however, persuaded to stay on.

The new politburo comprises Harkishen Singh Surjeet, Jyoti Basu, Prakash Karat, V S Achuthanandan, S Ramachandran Pillai, Sitaram Yechury, R Umanath, M K Pandhe, Biman Basu, Anil Biswas, Tripura Chief Minister Manik Sarkar, Pinarayi Vijayan and West Bengal Chief Minister Buddhadeb Bhattacharjee.

The four new members elected to the politburo are Chittabrata Majumdar, K Varadarajan, B V Raghavulu and Brinda Karat.