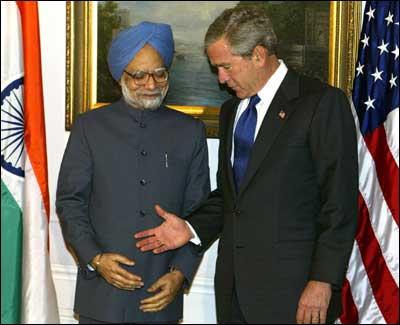 Prime Minister Manmohan Singh on Tuesday met US President George W Bush over breakfast in New York. Singh drove to the Waldorf Astoria Hotel in Manhattan where Bush was staying.
They are understood to have covered bilateral issues, global fight against terrorism, curbing of proliferation of weapons of mass destruction and Indo-Pak ties.
The meeting, which took place on the sidelines of the United Nations General Assembly, came four days after the US agreed to ease export restrictions, including removal of ISRO from a prohibitive list, and move ahead on the Next Steps in Strategic Partnership (NSSP).
The groundwork for the summit-level meeting was laid both in New Delhi and Washington at the recent interaction on NSSP, which concluded Phase One of the partnership talks and prepared the ground for further progress.
Photograph: Paul J Richards/AFP/Getty Images
Also Read:
US, India conclude high-technology deal