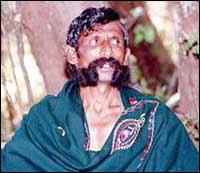 Dreaded sandalwood smuggler Veerappan and three of his associates were killed on Monday night, a top Tamil Nadu police official told PTI.
A Tamil Nadu police Special Task Force team, headed by Additional DGP K Vijaykumar, shot dead the dacoits in an encounter at Papparapatti village in Dharmapuri district around 11pm.
The forest brigand was wanted by the police for several years for poaching elephants, abduction and killing people.
Among the most high-profile cases, Veerappan had abducted Kannada film actor Rajakumar in July 2000 and kept him in captivity for 100 days. The other was the abduction of former Karnataka minister H Nagappa whose body was later found in the Chengadi forest near his ancestral house in Karnataka close to the border with Tamil Nadu.
Both Karnataka and Tamil Nadu governments had set up Special Task Forces to nab him.
The other three Veerappan associates killed in the encounter are Sethukuli Govindan, Chandra Gowda and Govindan.