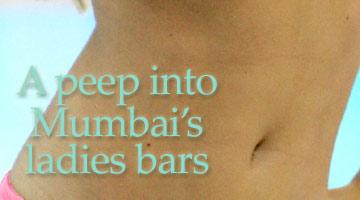 Most of the 1,250-odd beer bars -- or ladies bars -- in Mumbai are loud, kitschy and a haven for illegal activities.
But they provide employment to more than 80,000 young women who have only one thing to offer: their bodies.
Most just dance, in garish lehenga-cholis and heavy makeup, in front of their customers. Some go a little further.
They know they have a short shelf. After all, youth and beauty doesn't last forever. And in this profession, where thousands of women queue up every day for employment, age is inversely proportional to earning power.
There was a time when bargirls used to be isolated from Mumbai society, when they used to live in the city's slums.
The new century is seeing a change in those attitudes.
Many of them now live in good housing complexes. In many cases their families know what they do.
In fact, many of them go abroad with the help of contractors, where they earn in a couple of months what they would generally earn in a few years in the city.
Singapore, Abu Dhabi and Muscat are the dream destinations, because they find rich customers there.
But it is an unregulated business, where most contracts are oral. In many cases the contractors force these women into doing things they do not want to.
TAKE for example Suman, a beautiful 23-year-old woman, who went to Abu Dhabi with 14 other women for three months.
Suman had earlier travelled to Singapore, Dubai and Muscat and worked as a dancer. It was her sixth foreign trip, but the first with that particular contractor.
Once in Abu Dhabi, the contractor told her she would have to grant sexual favours to her clients.
She balked, and returned to India.
"I suspect it is a big network, where girls are sent to Gulf countries as dancers and forced to become prostitutes," Womenist Party of India president and social activist, Varsha Kale, told rediff.com
Kale has founded a union -- the Bharatiya Bargirls Union -- for women like Suman, to fight for their rights, and is trying to structure their business and shelter them from harassment from bar owners and policemen.
The police must investigate such cases, Kale said.
But many girls have more to fear from the policemen, who they pay a fixed amount regularly to avoid getting into trouble.
As for their relationship with the contractors, oral agreements are everything. Many of them cannot read or write anyway and they depend on the information given to them by their senior colleagues.
"It is different from contractor to contractor and country to country," Suman told rediff.com "In Singapore they have strict rules, and nobody breaches them."
Part II: Suman's story
Headline Image: Rahil Shaikh