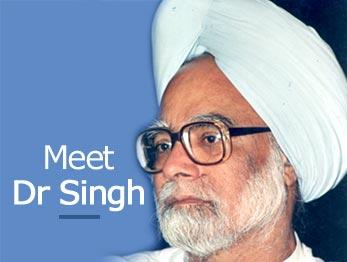 Full name: Manmohan Singh
Is this the same man who was the 'darling of the middle classes' in the 1990s?
Yes, it's the same Manmohan Singh.
And the first Union finance minister to present five successive Budgets?
That's him.
So why is he in the news now?
With Congress President Sonia Gandhi turning down the prime minister's post, he is the man marked out to replace her.
Why him?
Because Singh is a non-controversial politician with a clean image. Moreover, he is a man whom Sonia Gandhi can trust, both to do his job and to not challenge her position.
What is his personal background?
Manmohan Singh was born to Gurmukh Singh and Amrit Kaur in Gah, now in West Punjab, Pakistan, on September 26, 1932. He married Gursharan Kaur on September 14, 1958. They have three daughters.
Is he a Sikh?
Yes, Manmohan Singh is a follower of the Sikh faith.
Was he the first Sikh to hold such an important Cabinet rank?
No, there have been several senior Sikh ministers in Indian governments since Independence. Most notably, there was Sardar Baldev Singh, India's first defence minister. Sardar Swaran Singh, one of India's finest ministers for external affairs. Giani Zail Singh and Buta Singh have held the home portfolio.
Was Manmohan Singh the first Sikh to be Union finance minister?
That is correct.
What was his qualification to be finance minister?
Manmohan Singh is a professional economist. He did his MA in economics, followed by a DPhil from Oxford University. He had his education at the universities of Punjab, Cambridge and Oxford. He has also been conferred with several honorary DLitt degrees.
What positions did he hold before becoming finance minister?
Dr Singh began as a lecturer in Punjab University, his alma mater, in 1957 and went on to become professor of international trade at the Delhi School of Economics.
So he was an academic?
Yes, but he quit academics in 1971 and took up a government position for the first time as economic adviser to the ministry of foreign trade.
From 1972 to 1976 he was chief economic adviser in the Union finance ministry. In 1976 he was named a director of the Reserve Bank of India and the Industrial Development Bank of India. In September 1982 he was named RBI governor and continued in that post till January 1985.
A day after he retired as RBI governor, Dr Singh was named deputy chairman of the Planning Commission. He remained deputy chairman till July 1987. He was economic adviser to Prime Minister Chandra Shekhar from December 10, 1990, to March 14, 1991.
So he was an academic turned bureaucrat!
Yes, and you can add 'turned politician.'
When did that happen?
When the Congress returned to power with a minority government in June 1991 and P V Narasimha Rao, the man who was pitchforked into the prime minister's chair by the assassination of party president Rajiv Gandhi, handpicked Manmohan Singh to be his finance minister. It was as finance minister that Manmohan Singh, the faceless academic turned bureaucrat, was transformed into the darling of the middle classes when he became the man to introduce India to economic liberalisation and globalisation.
So Narasimha Rao brought him into politics?
Yes, Rao introduced him to active politics by making him a Rajya Sabha member from Assam.
Why Assam?
Because that is where the Congress was certain of winning a seat. Punjab was under President's rule at the time.
So is Manmohan Singh a resident of Assam now?
For the record, yes, his permanent address is in Guwahati. But as a Member of Parliament he lives in New Delhi.
How long has he been an MP?
He has been a member of the Rajya Sabha since 1991, being re-elected in 1996 and 2001.
So he has never been a Lok Sabha member?
No, not yet. He did contest the Lok Sabha election in 1999 from South Delhi, but lost to Vijay Kumar Malhotra of the Bharatiya Janata Party.
Back to economics. So is Manmohan Singh a free-market economist?
No.
But wasn't he the man who introduced economic liberalisation?
Yes, but he had no choice in the matter at the time. Manmohan Singh had grown up in an era when Socialism was the prevailing doctrine, but he was practical enough to see in 1991 that there was no option before the country but to open up the economy.
So what is his position now?
He is in favour of continuing the reform process, but with a 'human face.'
And that means?
That means he wants the reforms to benefit the poorer sections of society rather than just the elite. He also wants to ensure that the process of reform does not hurt the poor.
Image: Uttam Ghosh