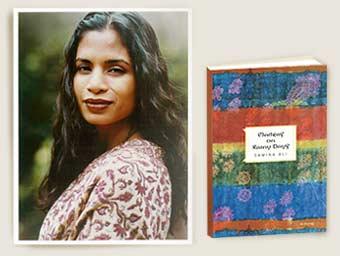 Layla is a dutiful Muslim daughter and free, independent American woman. At 19 her parents arrange for her to marry a stranger, Sameer. As her wedding looms, Layla becomes more and more erratic in her behavior and is taken to a faith healer.
In Samina Ali's first novel Madras on Rainy Days, Layla does marry Sameer but that is only one part of the complex novel published by the prestigious Farrar, Straus and Giroux. The novel unfolds against the backdrop of rising Hindu-Muslim tension.
America-born Samina Ali was educated in India. She lives with her four-year-old son in San Francisco. The writer spoke to Senior Editor Arthur J Pais recently.
If your book is made into a film, who do you think should be the artists?
I must confess, I have a soft spot for Shah Rukh Khan and would love for him to play Sameer. He would do a great job of showing Sameer's confusion and internal turmoil. Can't you see just him with all his deep eyebrow expressions? As for Layla, Aishwarya Rai will be a great strong female lead.
Who else is the storyteller in the family?
My mother's side of the family are real readers of Urdu novels and short stories. If my mother had better opportunities in education and just empowerment, she would have been the family's first official storyteller.
Why didn't she write?
Till this day, I urge her to sit down with pen and paper and write in Urdu, but she insists I'm the only storyteller. 
What stories did she tell you?
She doesn't read or write English so I didn't grow up on Where the Wild Things Are or Goodnight Moon, as my son is now.
Instead, she would tell long tales of black elephants at war with white elephants and lions with pins in their paws that only a mouse could get out and barbers who snipped ears.
Mary Higgins Clark says her parents' home was a great place for relatives and friends to meet on Sundays and trade stories. She thought of turning to writing when she was very young. How about you?
I came into being a writer late in life, and I place the responsibility for this entirely on my insecurities, fears and beliefs. Looking back now, I know I was a writer all along, inside, but it took years to openly claim it.
When did you seriously think of starting to be a writer?
When I got married at 19 in India, I lived in Hyderabad for about eight months. During that time, elections happened and a stranger came to my in-laws' house and told us a Hindu gang was coming to slay us. I believed I was going to die that night, and it occurred to me that I was saying good-bye to a life that hadn't been lived.
What happened then?
No gang came, but the terror remained with me along with that important epiphany. When I returned to the US, I switched majors to English and graduated with honors. I went on to get an MFA.
Was this okay with your family?
My parents still ask me when I'm going to get a 'job.' But I've let go of others' aspirations for me. More importantly, I've let go of my self-imposed limits. Writing fills me with the same sense of magic that watching Hindi movies did as a child. There's nothing else I would rather do. I chose writing as much as it chose me.
Which writers do you admire the most?
Paul Marshall and Toni Morrison were the two black women writers I first encountered. Their work left a deep imprint on me because it was the first time I read novels not written by white authors, so the first time I identified with characters and their experiences. This taught me that my experience was worthy enough to be chronicled and read.
Which other writers influenced you?
Later, I sought out and discovered Marianna Ba and Nawal El Saadawi, Sara Suleri, whose writings about Muslim women touched me at the core.
What do you expect Indian readers in America to take from your novel?
Indian writers have been the biggest wave of immigrant literature for some years. Yet each of us is speaking in a distinctive voice whether it is Bengali Brahmins or Bombay Parsis or Kerala Christians. My book is about Hyderabadi Muslims. My tale is simply one of the thousands that make India the dynamic country it is. I hope Indian readers in America recognize and embrace that.
And American readers?
I want them to see ordinary Muslims. In the post-9/11 environment, Muslims are overtly discriminated against, stereotyped, demonized. Muslim men are seen as terrorists and 'evil,' controlling and dominating women. Muslim women are seen as sexually repressed and uneducated, their bodies and movements controlled. I hope the novel exposes Western readers to ordinary Muslims and thereby humanizes them. I also hope Layla can prove that a woman, even a Muslim woman, can come out from under the weight of tremendous familial and cultural expectations to become her own person.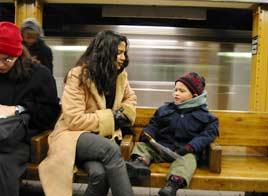 And Indian readers in India?
Many people think only women must adhere to certain rules while men have full autonomy. This isn't the case. I know from my two brothers and many cousins and friends how difficult it is to be an Indian male. Men and women simply have to meet different expectations. Of all the narratives in India, the narrative of the wedding and a family is the strongest. What if a man chooses not to get married? What if he's not attracted to women? What if he is gay? Where are all the alternative narratives to the overriding one?
How did this book start?
At 20, I returned to America newly married to an Indian man. It was a profound trip home to India, where I really grew up in many ways: I was suddenly a daughter-in-law, a wife. I had gone through that painful night of terror when I thought I was going to be killed. Because I understood that night I wasn't living out my destiny, and when I returned I began to take steps toward that. I enrolled in a creative writing class.
What was your first assignment?
It was to write a scene. Though I hadn't written anything before, I sat down at the computer and the scene erupted in one sitting. It's in the novel. It's the scene in Madras [Chennai now] where the alim exorcises Layla with incense to help her marriage.
What was your professor's reaction?
The professor read it and told me to talk to her after class. I thought I had done something terrible. Instead, she said she wasn't going to give me any critique. All she wanted me to do was to write, not to listen to what other students had to say about the content, not to bother with outside criticism, just write. She said I was writing a novel. I was naive and ambitious, a terrible combination, so I believed it. Voila!
What was the original vision? 
Oh gosh, well, I think this is where I fumbled into being a writer. I had that one scene, which I knew would take place on the couple's honeymoon, and it was enough to give me the story. All I had to do was to write up to that scene, then write everything from it to the end.
But it wasn't that easy at all?
Easy, huh? Ooofffff! I wrote so many versions of this book that it makes my head spin. During my MFA, every time it was my turn to bring in a sample of my work for critique, I brought in a totally changed version of the first chapter. For two years I worked on the first chapter! But I must confess, it was always about Layla's journey from possession to self-possession.
What fears do you have as a new writer?
I'm not sure I have fears as much as I have hopes. I hope the Indian communities abroad and in India appreciate the book. I hope they see the underlining themes of forgiveness and love.
Has the book been sold outside America?
The book is being sold in Europe and other countries, and though I'm excited by these prospects, I was deeply touched and thrilled when all major publishing houses in India bid on the book. India was the most important country for me to sell it to, and their reception of it felt like an acceptance of my story and me.
Main Photograph: Thayer Gowdy.
Image: Dominic Xavier