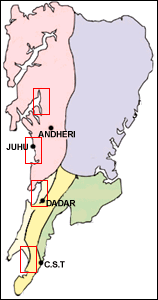 As is the routine during Ganeshotsav every year, the Mumbai police have made special arrangements to ensure smooth flow of traffic on immersion days. The traffic redirection will happen on Saturday, September 6, and Tuesday, September 9, this year.
The four main immersion points in the city are Girgaum Chowpatty, Dadar Shivaji Park, Juhu beach and Versova. These areas have been marked with rectangles on the map of Mumbai on the right.
Click on any of these rectangles to see a detailed map of the traffic arrangements for that region, along with a description of the roads that have been closed or restricted.
Follow the rules and have a safe journey.