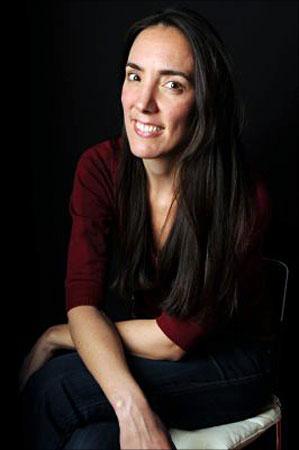 The documentary Smile Pinki, a real-world fairy tale shot entirely in India runs for just about 39 minutes but the film nominated for an Oscar in the short documentary section tells such a compellingly upbeat story that some viewers may wish it were a feature.
While the 10 Oscar nominee Slumdog Millionaire celebrates a rag to rich story of a boy raised in the slums, Smile Pinki, which is in Hindi, highlights the work of Dr Subodh Kumar Singh whose simple surgery turns poor children born with a cleft lip into smiling faces.
The film produced and directed by Megan Mylan, nominated for  Emmy-nominated for Lost Boys of Sudan, marks a departure for her.
"My film work is concentrated on human rights," she says. "But when The Smile Train organisation that had seen Lost Boys of Sudan asked me if I would be interested in going to India to make this film, I told myself, why not make a film for a change that has an happy ending?".
Her feature-length documentary Lost Boys follows two Sudanese refugees on an extraordinary and uncharted journey from Africa to America where they are confronted with the abundance and alienation.
A phone conversation with Dr Singh convinced her that she should focus on the work at his clinic in Varanasi. Pinki Sonkar, who was denounced by her classmates and villagers as hothkati -- the girl with the torn lip before the surgery, is now being called as dhana-lakshmi, reports BBC.
Dr Singh is the plastic surgeon at the GS Memorial hospital in Varanasi who carried out Pinki's surgery.
'I was excited to tell the story of this beautiful hospital and a team of doctors and social workers treating their patients with such compassion and quality care and making a positive impact,' she has said in an interview. 'I continue to be inspired by the simple idea that the better we know each other, the better this world is, and I hope people come away from my documentaries feeling like they better understand the life of someone living a very different reality.'
"Dr Singh could be working for a private firm or run his own business in India or abroad and make much more money but he is committed to bringing smiles to the very poor," Mylan says. Pinkie and Dr Singh are expected to be at the Oscars.
New York-based Smile Train has partners like GS Memorial Hospital in more than 75 countries and since its inception eight years ago has provided over 310,000 free surgeries for children, according to its website. Each surgery costs about $250 and is completed in about 45 minutes.
"Though it is a smooth procedure, we never show it as being very easy,"  Mylan, who has masters degree in journalism and Latin American studies from the University of California at Berkeley, says of her first film made in India. She adds that children like Pinki have to travel for many hours to reach Varanasi; in her case, it was an eight hour journey from her village in Mirzapur district in Uttar Pradesh.
According to the BBC, Dr Singh has performed more than 13,000 surgeries in the past five years. He sees at least 20 new patients every day and does as many surgeries.
Mylan says her project benefited enormously because of two people -- field producer Nandini Rajwade and Pankaj Kumar Singh, one of the social workers. Rajwade, who has a master's degree in journalism from UC Berkeley, is also an aspiring documentary film-maker.
Among other things, they convinced Pinki's parents why her journey was being filmed. "It was very important to have their trust," Mylan says.
Lost Boys of Sudan was shown in about 75 cities in America and also on America's public television, PBS. Smile Pinki would also reach millions of viewers worldwide through film-festivals, screenings by The Smile Train and on HBO in the Fall."

'There are many other Pinkis in the world who still need help,' the website for The Smile Train notes. 'Millions of poor children with unrepaired clefts who are waiting and wondering if anyone will ever come along and help them. For the vast majority of them, Smile Train is their only hope.'
Images: Producer and director Megan Mylan
Text: Arthur J Pais