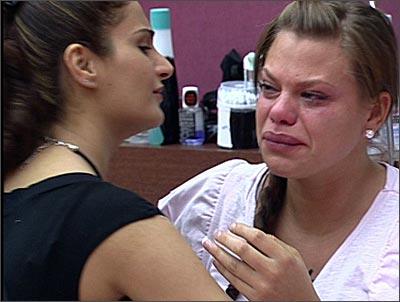 Twenty-seven year old Jade Goody pulled out of the reality show Bigg Boss 2 on Tuesday after it was revealed that she has cervical cancer, sources from the television channel Colors told rediff.com
'Jade's stay at the Bigg Boss house has been cut short with an unfortunate development. Only yesterday, the results of Jade's test were out [conducted in UK before her departure to India], and the tests indicate the possibility of cancer,' said a statement from Colors.
'Jade had just stayed in the Bigg Boss house for two days and was looking forward to reaching out to millions of Indians through Bigg Boss 2, to try and dispel various perceptions that exist in people's mind about her,' the statement added.
Goody made headlines last year during the British reality show Big Brother for her racial comments against housemate Shilpa Shetty, who is now the host of Bigg Boss 2. Goody had come to India to participate in Bigg Boss to prove that she is no racist.

"It is unbelievable, how life is so unpredictable and finds a way to distract and derail you from your plans," Shilpa Shetty, the host of Bigg Boss 2, said. 'My prayers are with Jade, her family in this hour, when they face one of the biggest tests of their life, in times ahead. I pray she comes out of this, soon and, stronger. Hope that she is going back with happy memories from this country."
London's Sun newspaper quoting a friend of Goody said, 'She was called into the Diary Room and spoke to her agent and then her consultant in the UK. She just burst into tears, ran out and said to housemates 'I have cancer'. Jade was then led out of the house and she is coming back to England to see another consultant. She is completely devastated.'

The contestant earlier survived two cancer scares. She will be flown back to UK on Tuesday night. Sources reveal that the footage of the incident may not be aired.
Media reports suggest that she is the highest paid participant on the show, drawing about Rs 80 lakh.
In the picture: Housemate Monica Bedi consoles Jade Goody.
Text: Rajul Hegde