Understanding the movie business -- why some films work and others don't -- is tough, almost impossible. For example, why did Jodhaa Akbar, which boasted of a brilliant Hrithik Roshan and gorgeous Aishwarya Rai Bachchan, not become a big hit? Did Shah Rukh Khan's aggressive publicity help make Om Shanti Om a blockbuster?
Trade analyst and editor of trade magazines, Film Information and The Film Street, Komal Nahta tries to explain.
Last year's Om Shanti Om set the precedent for excessive publicity. Do you see its ripple effects in other films' promotions?
OSO did publicise hugely, and Shah Rukh Khan went all out to promote the film. Yes, you do see its influence on other films, where stars think they can go all out and the film will do well. OSO didn't do well just because of the publicity; it had other merits.
The scenario for small, independent films looks bleak. How do they compete with multi-crore rupee marketting budgets?
There are always ways to create buzz around a film. You have to be creative and think out of the box. Kunal Kohli's Hum Tum hardly had any publicity budget but they thought of novel ways to market the film. They tied up with The Times of India for a cartoon revolving around the film. They also liaised with Jassi Jaissi Koi Nahin where Saif Ali Khan made an appearance. Small films can also advantage from word-of-mouth publicity.
But does word-of-mouth work?
Look at Vivah. It had a very slow start but people thronged to the theatres when others recommended the film. Vivah entered theatres with very few prints and that was increased gradually as per the audience's response.
How important is the opening weekend today in determining the success of a film?
The importance of the opening weekend is here to stay and increase. About 10 years ago, Mumbai's Dreamland cinema was an important theatre and ran about 21 shows a week. But when Race released, Cinemax alone was screening 26 shows a day! In Andheri, between Cinemax, Fun Republic and Fame Adlabs, there were 50 shows of the film held in a single day. The mantra now is to get as much money as you can in the opening weekend and then forget about it. Golden and silver jubilees are a thing of the past. It's better to get Rs 30 crores in a few days rather than over many weeks.
Does that also mean that, invariably, films will increase prints released to theatres?
Definitely. Hollywood releases 3,000-4,000 prints, and we are getting there slowly. Race has broken previous barriers by releasing 1,600 prints. This trend is likely to increase.
Is there a recipe to guarantee a good opening weekend?
The first thing that comes to mind is the star cast. The audience still wants their money's worth from stars. But even that is not a guarantee for a bumper opening. Take Jodhaa Akbar. Even with Hrithik Roshan and Aishwarya Rai starring in it, the film opened to a lukewarm response and picked up later. It was a Rs 43 crores film, it had better take a great opening. But compared to its scale, the opening was not good enough.
Race had a great star line-up and has done very well. Now, the reports are lukewarm but after some years, we will still remember it as a successful film.
How important is the music for a film to get a great start?
Music is a huge factor in ensuring an audience in the opening weekend, as the audience forms an opinion on the film through the songs. When Raaz released, it had no star cast. Bipasha Basu was not the star she is today. But the film was a superhit on day one, as the songs were already liked by the audience.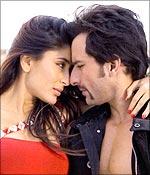 You've spoken about an honest approach to promoting films.
My advice is: assess your film, be honest and then exploit your film accordingly. Mohabbatein had Aishwarya Rai in a special appearance. A producer would have been tempted to publicise her as a part of the film. But Aditya Chopra refused to do so. As a result, the viewers did not feel cheated, and felt they had got more than they expected out of the film. The benefit the film received by being honest was far more.
What role do controversies play in a film's promotion?
I think the audience has wisened up and can tell when a false controversy is being raked up to sell the film. Jodhaa Akbar's controversy was genuine. But the audience cannot distinguish between genuine controversies and fabricated ones.
You've said that Black And White's title was one of the reasons for the film's failure.
The title of a film plays a huge role in getting the audience in on the opening weekend. I think the title Black And White was too classy for viewers. The title is very important for the film to get a decent start. A title like Chandni Chowk would have been a more honest one.
You were the script doctor on Aap Kaa Sarroor, which was a big hit.
It was a very creatively satisfying experience. I remember Himesh Reshammiya told me 'get me the one thing that Aditya Chopra puts in his films that makes it a hit'. Then as we worked on the script, we would joke 'Aditya Chopra mila kya?'
What do you think about the Indian audience?
The Indian audience is very tolerant and understanding. They are more than willing to make every film a hit. You can give them a novel subject, or at least a novel presentation, and they are happy. They get angry only when there is nothing new in neither the subject nor its presentation.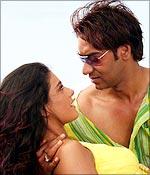 We have advanced technically and creatively but the portrayal of women is still disappointing. Do you see the scenario changing?
True, but that's because of the audience's mindset. They cannot see a woman leading the film. The primary reason an average viewer goes to see the film is the leading man. A film, even today, opens on the strength of the hero. I don't see the scenario changing soon.
Which do you think will be the big film of 2008?
It's very difficult to say. There's Tashan, and the Yash Raj films. Even Tarun Mansukhani's Dostana has a good subject.
Your prediction for U, Me Aur Hum?
I like the new promos that they are showing in the theatres. You feel that the film has something new to offer.