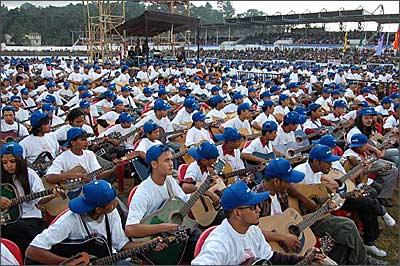 Shillong strummed its way into the Guinness Book of World Record on October 26 for the largest guitar ensemble when 1,730 guitarists -- mostly youths -- strummed in perfect rhythm to Bob Dylan's timeless classic Knocking on Heaven's Door for more than five minutes at the city's Jawaharlal Nehru stadium.
The Shillong guitar ensemble surpassed the previous record set by 1,721 guitarists who performed Deep Purple's popular number Smoke on the Water at the Community America Ball Park of Kansas City, Kansas, United States on June 3, this year.

As soon as the verdict was announced by Meghalaya police chief Bijon K Dey Sawian, the guitarists stood up and raised their guitars to the sky while erupting with joy over winning the record.
Renowned music teacher Dr Lapynshai Syiem was the authorised adjudicator of Guinness World Record Limited.
"This is a moment of pride for all of us in the North East, especially the people of Shillong. It shows that we can do something positive for the world," Meghalaya Education Minister Robert Garnette Lyngdoh said.
Shillong School of Music won the cash award of Rs 20,000 for bringing the maximum number of 362 guitarists. Many participants came all the way from the neighbouring states like Assam, Mizoram and Manipur to be part of the record-breaking event.

The guitar ensemble was held as part of celebration of Autumn Festival 2007 organised by Meghalaya Tourism Development Forum (MTDF).
It may be recalled that Shillong had earlier notched up a world record for the largest drum ensemble with 7,951 drummers taking part during the event held in the same venue in October last year.
Text: John Thabah | Photograph: Sanjib Bhattacharjee