No media is allowed beyond the gates of Bandra's posh Lamar Apartments, where Aishwarya Rai resides. Here's what's likely to happen if you try your luck there.
Don't Miss: Ash-Abhishek wedding
Anyone trying to get close to the main gate are warned by the mediapeople themselves that the little bit that they can get to cover would also be deprived from them. So its also bad for the journalists toiling since morning.
We had to wait hours to get a glimpse of what was going inside the building -- the only time we got a chance to look inside, we saw a pandal has been erected inside the apartment premises, with a green cloth roof and blue flooring, with blue lanterns.
Also See: Ash's house, in lights
2 policemen stand guard at the gate 24/7, and security firm Monitron has also been deployed to cover the building. At Amitabh Bachchan's homes Jalsa and Prateeksha, crowds of eager fans are standing outside the building, but at Lamar all you can see are a few mediapeople.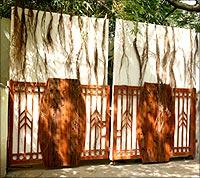 Two children were the only enthusiasts who came to check if any stars were coming to meet Ash. Apparently, these kids were told that Abhishek had visited her at around 6:30 pm on Tuesday evening, and they came to see if they could get to see some superstars.
Neeta Lulla, longtime dress designer for Aishwarya, is planning Aishwarya's trousseau and had come to visit her with the costumes Aishwarya will be wearing today and tomorrow.
Video: 'I have seen Abhishek twice'
Today, the sangeet will be at Prateeksha at around 7:30 pm, and there are rumors that the mehndi will be at Aishwarya's residence tomorrow. So therefore the pandals have been erected with 260 chairs and a good amount of tables inside the Lamar building. Huge mattresses were also taken in and out of the building.
The assembled media speculate that today's Prateeksha sangeet will include Hrithik Roshan dancing to a song from Dhoom 2 and Ash-Abhi dangin to Kajra Re. There may also be some bhangra at the sangeet as a few people dressed in typical Punjabi costumes were seen entering Prateeksha.