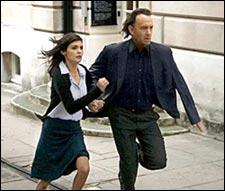 After watching the controversial film Da Vinci Code at a special show in New Delhi on Thursday, the Censor Board has cleared the film with an 'Adult' certificate.
The film has been cleared without cuts, but it will carry a disclaimer at the beginning and at the end.
Leaders of the Christian community in India had asked for a disclaimer, an 'Adult' certificate and some cuts before the film is released in theatres in India on Friday.
The religious leaders watched director Ron Howard's latest film in New Delhi on Wednesday and met in the capital on Thursday to give their joint response to Information and Broadcasting Minister Priyaranjan Das Munsi.
"We have said the film's story is unacceptable to the Christian community of India. If the government goes ahead with the release of the film after the special screening for the members of the Censor Board, then there should be a sustained and lingering disclaimer saying that this movie is fiction and has no bearing with the historical truth or corresponding truth," Father Donald D'Souza, deputy secretary general, Catholic Bishop Conference of India, told rediff.com
"We want the film to be given an 'A' certificate so that the mature audience can differentiate between fiction and reality. We also want some scenes to be cut, particularly the one where the murderer makes the sign of the cross before and after a murder. This hurts religious sentiments," Father D'Souza added.