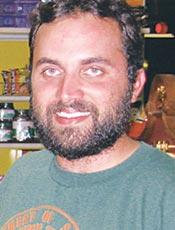 Ben Rekhi, who turns 27 in a few days, has already produced two films -- Bomb the System and Waterborne. Both films were made on a shoestring budget of less than $1 million each and have traveled to a number of film festivals.
While the first film about graffiti artists went straight to DVD, the latter, about Los Angeles being hit by bioterrorism, is being shown on Google.com as a Google video feature before it goes the DVD way.
Rekhi recently completed Car Babes which he says is another serious film with a few light moments.
Rekhi, son of Silicon Valley businessman Kanwal S Rekhi, is getting ready to produce his fourth film, Waste. That will be his second directorial vehicle after Waterborne.
A graduate of New York University, Ben describes himself in startup mode, like any Silicon Valley emerging entrepreneur would be, in an interview with Rediff India Abroad Managing Editor Arthur J Pais.
Our spies tell us you were seen working as a garbage man in New York.
(Chuckles). Well, that was three years ago. I wore a garbage collector's uniform and spent dozens of hours on the streets of New York. I had permission to do so from the mayor's office. I was doing research for a film called Waste that I will soon direct.
What is it about?
It is about the men who collect our garbage day after day from the streets, office and housing facilities.
How did you get interested in it?
I have always been interested in people on the periphery of a society. Every day we get rid of millions of tons of rubbish. Surely there are people who have to deal with it each day of the year. It is only when you are on the streets working with the sanitary workers do you understand how tough and demanding their work is. I handled only a very light amount of waste compared to the regular workers, and even then it was not easy.
What else nudged you towards this project?
There are films on cops, the Mafia, barbers and every other profession one can think of. I have always wanted in my films to look at the themes that others weren't paying attention to.
Why is Waterborne going to Google and DVD, and not into theatres?
Our film won a lot of praise at many film festivals but remember that many independently made low budget films do not get a theatrical release because they have no stars. And more often than not, distributors try to take advantage of such films and their producers see little returns.
We thought we would have control over the film by trying something innovative.
And what is this innovation?
We are breaking the mould of traditional film distribution by applying the concept of music downloading, popularised by iTunes, to a feature-length film: essentially, cutting out the middle man by bringing product directly to the consumer via the Internet.
How exactly are you doing this?
We have made the film, which also features Shabana Azmi and Ajay Naidu along with many well-known American artists, available for free streaming on Google Video the first week of release, after which it join Google Video's radical new download-to-own feature.
Then on February 21st, it will be released on home video, available for purchase and rental at all major retailers and rental outfits, including Netflix and Amazon.com
The quick turnaround to DVD is another aspect of the new distribution model to release it in the ancillary media while the film is still fresh in people's minds.
What does this method say about the traditional distribution method?
Films will continue to be released theatrically and then go to video. It could happen to our next film, Car Babes. But as the traditional means of film distribution are dwindling, I believe that embracing online technology is the future for independent filmmakers.
The Internet will revolutionise the film industry just as it has the music industry.
How did you come to this decision?
Smriti Mundhra, who also produced Waterborne, and I decided it was time to take matters into our own hands. We believed in the new distribution method so much that we decided to walk away from a six-figure distribution deal to work with Google Video on this initiative.
The beautiful part about this model is that we -– the filmmakers -– retain ownership of our content. In the old method, the filmmakers, the one who takes all the risks to create the content, might never see a dollar of the revenues after all the middlemen get their share.
This way, we sell directly to the consumer, and we can reap the rewards.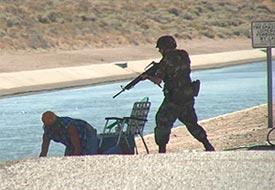 What makes you think more people will see your film released through the Internet?
If we were to release a specialised film such as Waterborne (image alongside) only in a handful of theatres, we would be lucky to get a couple thousand people to see the film. But releasing through Google and taking advantage of their millions-plus user base, we can get a couple of hundred thousand or a couple of million people to view it.
Essentially, anyone on the planet with a computer and a broadband connection can watch our movie.
For those of us working outside of the studio system, this kind of exposure is tremendous.
How would you describe yourself as a producer and director?
I love to work outside the box, and our distribution strategy is continuing my sensibilities.
In what way?
When we set out to make Waterborne, we aimed to think outside the box of conventional filmmaking. Now in releasing it, we want to do the same thing in pioneering new methods of film distribution.
We are leaping into the great unknown as no one has proven this model will work. But who better to lead the way than Google, a company that has been at the head of every major online development in the past couple of years?
External link: Now Out In Theatres And On Your Television!
Tell us about Car Babes, would you?
Well, it has a very sexy title. It gets a lot of ears perked but it is in no way a bikini car wash movie. It is a kind of underdog film.
Underdog film?
Yes, it is about car dealership and the title comes from the term car salesmen use for each other. It is the story of a young man who is rudderless and is forced to work at his dad's dealership to pay off for a car he has damaged.
Don't people ask you that given your Silicon Valley connections, how is that you did not go on directly to Hollywood?
The kind of films I am interested in would not have attracted the top producers or stars in Hollywood because I am a beginner. And if anyone had come forward to make these films, they might have ended being far different than what I had in mind. But with independently made quality films that draw attention at various film festivals, I am in a position to have a better deal in Hollywood soon.
Do Hollywood people now return your phone calls?
(Chuckles). Today many people in Hollywood return my calls because they know of Bomb the System and Waterborne.
What have you learned from your father?
About conflict resolution. About finding out who in a team is good for a particular thing. He also has talked with me at length about reducing the risk and staying focused.
What is your ultimate dream as a filmmaker?
Actually, there are two. I would like to make a Western that really celebrates Native Americans. And I want to make my own Braveheart film on the Sikhs, celebrating the martyred Sikh Gurus.
Why aren't you directing Car Babes?
For the simple reason that my childhood friends from Los Gatos, writer Blake Dirickson and directors Chris Wolf and Nicholas Fumia, brought the project to me. Even Bomb the System was directed by another friend Adam Bhala Lough over three years ago.
You love working with people you have known for long, isn't it?
Certainly. I started out making short backyard films with my middle school friends and by high school, we had completed a cops and Mafia spoof called Get 'Em, which was shot around town and has achieved a sort of cult status in Los Gatos. We even rented out the Los Gatos Cinema for a screening that drew 400 people, including all my uncles and aunts.
Each of us have started out together and we are all branching out and doing individual projects, but we all come back together to do bigger projects.