My comeback in Bhagam Bhag is a gift I am giving my family and fans on my birthday," Govinda, who turned a year older on December 21, says.
"I had promised my family that I will return to cinema soon," he continues. "But instead of a year and a half, it took about five years. I joined politics at the behest of my seniors and considered it my duty to do so. After winning the elections over [former petroleum minister] Ram Naik, I wanted to know more about politics and do something for my constituency. After three years, I signed a film which took more than a year to release."
True to his comedy hero image, Govinda will make his comeback in a hilarious Priyadarshan movie, also starring Akshay Kumar and Lara Dutta.
Govinda says that though his comeback was not as easy, he applied the same formula that Amitabh Bachchan did when he made a comeback years ago.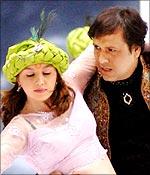 He called his close friend and director David Dhavan -- with whom he has had many hits -- to help him out.
"David called Salman [Khan] and Suniel [Shetty] and thanks to them, Akshay and Priyadarshan I am back," Govinda says. "My role in Bhagam Bhag was Suniel's. He offered me that role and Priyan stood by it. I was really touched by that. When you have friends like them, nothing can stop you from returning. I have done my best and hope that the audience will enjoy watching the new Govinda associating with the finest maker of comedies."
Govinda has also tried to lose weight to look better in the new film. "I walk and practise yoga for an hour each," he says.
On a lighter note, he says that stars are also normal people. "Anil Kapoor still drives a cycle, Akshay prefers a bike to cars and Salman even drives an auto! One day, I was returning from the airport and a rickshaw driver waved out and started calling me. When I closely looked at him, it was Salman Khan driving an auto at midnight in [the Mumbai suburb of] Bandra," Govinda says.
The two have obviously grown very close to together. Salman, who is his costar in Nikhil Advani's upcoming multistarrer Salaam-E-Ishq, gifted him a Mercedes Benz recently.
"Sallu is very unpredictable," Govinda says. "For all you know, he may have made some plans already [for his birthday]."
Govinda adds that he plans to celebrate his birthday quietly with family.