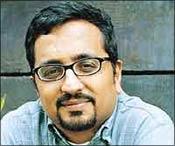 Ab Tak Chappan director Shimit Amin has moved on. From the dark shadows of Ram Gopal Varma's Factory productions to the frothy, feel-good ambience of Yash Chopra's cinema.
Shimit's second venture will be for Yash Raj Films, and starring Chopra's blue-eyed boy, Shah Rukh Khan.
Ab Tak Chappan meets Dilwale Dulhaniya Le Jaayenge? Not quite. "Actually," says the US-bred Shimit Amin with a Yankee accent that cuts across the phone line, "I had started a film after Ab Tak Chappan for Ram Gopal Varma called Let's Catch Veerappan. But when Veerappan died, the project was aborted. I left India to go back home to the US -- I have family in North Carolina and Los Angeles. Now I'm back to this project."
Apparently, Aditya Chopra heard the script and was bowled over. "All I can say at this point of time is that it's going to be very different in mood and texture from Ab Tak Chappan. Will it have songs and music? I don't know. It might. I can't say, at this point of time."
Knowing the Yash Raj Films penchant for secrecy, Shimit seems to be walking on glass. "No, no," he laughs. "Even if my producers weren't known to be secretive, I'd have still been hesitant to discuss my new project. It's all so fresh and incomplete right now."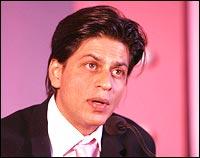 But a leap from Varma to Chopra surely entails a whole lot of readjustment? "Not really," Shimit corrects me. "If Chappan reflected Ram Gopal Varma's cinema, I'm sure my film for Yash Raj Films will reflect the new 'reality' in my creative vision. But it doesn't mean my individual creativity wouldn't matter."
"Yash Raj Films reminds me of the old studio system in Hollywood in the 1940s and 1950s, when every production company from Paramount to MGM to Columbia made films that reflected their individual style. And yet, every director, be it George Cukor, Michael Curtiz or Vincent Minnelli, brought in his own reality. I hope to achieve the same synthesis of patented production style and my individual talent for this project for Yash Raj Films."
Shimit seems loath to admit he has moved on from Varma's factory-formed vision. "If you say Yash Raj Films is posh, so is Varma Corporation. Their films reflect a different kind of sophistication and glamour, that's all. Ab Tak Chappan wasn't a small arthouse film. It made quite an impact."
Shimit's yet-untitled film is written by Jaideep Sahni (who wrote Ramu's Company), and is scheduled to wrap up by mid-2006.