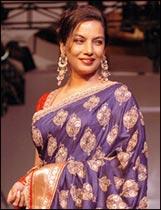 Interviewing Shabana Azmi can never be confined to words. A chat with her invariably consists of long pauses, thoughtful comments, razor-sharp insights and quick rebuttals that make you feel she is for real. Interviewing her is any journalist's delight because she never runs out of words or opinions. Be it Sania Mirza's skirt or an Oscar nomination for Paheli, the actress is bubbling with notions.
Without mincing words, Shabana chats with Indrani Roy Mitra about Sania, censorship and films.
On Sania Mirza
I am appalled by the media's obsession to turn a non-issue into an issue. The amount of space and coverage that has been given to the length of Sania Mirza's skirt is shocking. The Jamiat-e-Ulemai Hind and the Muslim Law Board have both distanced themselves from this. Why should every utterance of a non-entity be projected as the voice of the Muslim majority? For the hundredth time, I would like to explain a fatwa can only be given by a mufti and that it has to be given in writing.
A fatwa is only an opinion that is sought from a mufti who is considered so well-versed in the Shariyat that he should be able to give his opinion. A fatwa is not a diktat, it's not binding. To turn the utterance of a non-entity into a fatwa and then talk about it endlessly really gets on my nerves. And then if I complain to the media, they say, 'We are asking you to give your opinion on it, you are free to contradict it.' But why should I have to waste my time contradicting stupid statements? [Why should I] Set aside everything else and provide fodder for the media? There should be some sense of what can be picked up as serious and what should be ignored. It is very important for the media to exercise greater sensitivity and be more sensible on such issues. It is a non-issue that is of no concern to the majority.
On the freedom of the press
Obviously, the media is important in building public opinion. One of the best things that we have in India is a free press. Yet, it's time we exercised more caution. There is a dumbing down of the news. Newspapers today seem more like tabloids. I have to wade through seven newspapers before I can find a couple of paragraphs that are serious news. What a pity!
On The Singapore Repertory Theatre and its new production of this year's Nobel Prize winner Harold Pinter's play Betrayal
Betrayal was produced by The Singapore Repertory Theatre with whom I had also earlier worked in a version of [Henrik] Ibsen's A Doll's House, called Nora by Ingmar Bergman. The Singapore Repertory Theatre is at the forefront of a theatre movement that asks for colour-blind casting for Asians.
In essence, they say why should all the best parts automatically go to white Caucasians. Colour-blind casting is required today because race is no longer an issue when it comes to nationalities.
Betrayal is Harold Pinter's best-known play. It is about a wife betraying her husband for his best friend only to realise that the husband has also been betraying the wife. The play revolves around a series of betrayals that make the audience look into themselves to see how they need to confront their betrayals at whatever levels.
The play is based in London. My co-actor Peter Friedman is a Tony nominee. Simon Jones is English but lives in New York. Both work on Broadway. Incidentally, Jones stars in the film The Hitchhikers' Guide To The Galaxy. They are experienced artists and working with them was a learning experience for me.
Doing Pinter is a challenge for any actor for he is the only playwright who writes his pauses into the script and differentiates between the pause and the silence. The play only depends on its words and the talent of the actors rather than great technical wizardry.
Betrayal was a huge success. I was in Singapore for seven weeks. The Singapore Repertory Theatre does not generally have such extensive runs. Buoyed by the play's success, I am planning to take Betrayal across the globe in the next few months. I am also working towards bringing Betrayal to India as well.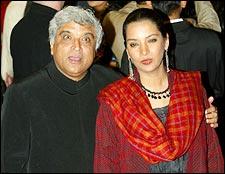 On the theatre scene in India
Be it The National Theatre -- I did Waiting Room --- London, or The Singapore Repertory, the theatre scene is completely different abroad from India. In other countries, theatre has proper rehearsals from 10 am to 6 pm, which just does not happen in our country. Here, nobody can afford to do only theatre. Everybody is in some other profession and does theatre only in the evening. A theatre artiste here cannot afford to give the kind of time because the medium does not pay.
On the changing nature of Hindi films
Things have improved as far as technical excellence is concerned. We have brilliant cinematographers and technical guys. But we need to pay more attention to scripts. Earlier, the filmmakers needed to cater to the lowest common denominator. But with the advent of the multiplexes, there is a realisation that there is no pan-Indian audience. There are niche audiences, multiplex audiences. A young director can now make a film for NRIs [non-resident Indians] and multiplex audiences and not worry if a film does not work in Bihar. On the other hand, small-budget independent films without a star cast are finding it increasingly difficult to find distributors. I think the audiences are there, what we require is careful marketing -- an ability to hold the film in the theatre as word of mouth publicity builds up. A Yash Chopra film starring Shah Rukh Khan doesn't need that. But the opposite happens and we reach the wrong conclusion that a non star cast film cannot work.
On cross-border cinema
Now, as we talk about peace process with Pakistan, it's important that we talk about co-production with Pakistan. Pakistan worries that if Hindi films start being shown officially in theatres, it will cause a serious jolt to the Pakistan film industry. Hindi films are already being shown there, albeit illegally.
An India-Pakistan co-production will be beneficial to both the countries because there are a lot of talented writers and actors in Pakistan. Yash Chopra had said, for instance, if doors were opened, except for Shah Rukh Khan and Amitabh Bachchan, Veer-Zaara would have had an entire cast of Pakistani actors. The Hindi film industry will benefit immensely should such co-productions happen.
Young Presidents Organisation of Pakistan were here on a goodwill mission. They went back thrilled by the warmth extended to them by the YPOs of India. In the past too, Indians who have come back from Pakistan cannot stop singing praises of Pakistani hospitality. Let us strengthen people to people contact, encourage student exchange programmes, invest in trade and business – so that both countries have a stake in maintaining peace. The governments need to get the message that people want peace. This issue can never be resolved militarily.
On new trends in Hindi cinema, like item numbers
Filmmakers make films as per the audiences' needs. Producers are here to make money. If the audience tomorrow demonstrates that they want films on women's empowerment, the producer will cater to their demands. If he sees item numbers will fetch more people to the theatres, he will go for them. He is a businessman. He is not there to change the world. The onus rests on the audiences to reject what they don't like.
Frankly, I find many of the item numbers distasteful but less distasteful than women being shown as subservient doormats. The only way of countering the onslaught of item numbers is by creating counter images of empowered, independent women. Hindi cinema needs to make working women and women of substance more visible. It should then be left to the audience to choose what they wish to see.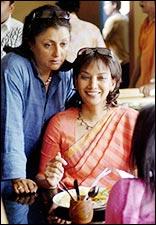 On censorship
Freedom of expression is vital. But I accept that it cannot be absolute and so we have a Board of Censor Certification -- which is funnily referred to as the 'Censor Board'. We have taken our model from the British and it's about time we reject it. How can 30 people in the country -- who have obviously been chosen because of their political dispensation -- sit in judgment over the morality of the whole country? We should accept the American system where filmmakers self regulate by either making voluntary cuts because they accept it is unfit for children and would like a larger audience or insist on no cuts but ask for a XX rating or whatever and accept that it is meant for a restricted audience. That's the way we should function.
On Aparna Sen's 15 Park Avenue
Aparna Sen is a favourite. She is one of the best filmmakers in India. In Park Avenue, I play an urban woman, a physics professor, a caregiver in the family. The film is about two sisters, one of them being schizophrenic [played by Konkona Sen Sharma]. It's an interesting theme. Let's see how it shapes up.
On playing Umrao Jaan [Shabana denies recent reports of having walked up to Umrao Jaan maker J P Dutta and telling him, 'No one else can play my mother's role than me']  
It was Rekha who called me up to say that I should play the part of Khanam because my mother Shaukat Kaifi had played it in the earlier version. It's really sweet of Rekha.
Umrao Jaan will be a challenge for me because everyone remembers my mother well. I am looking forward to step into her shoes.