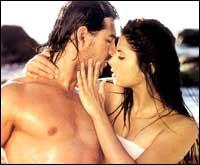 Am I an idiot to let one of my actors make my film for me?" Priyadarshan, who is just out of hospital after a sinus problem, laughs sarcastically at rumours doing the rounds in the film industry that Akshay 'chopped off' his co-star John Abraham's scenes in Garam Masala.
"This is nothing but a figment of a troublesome journalist's imagination," the Garam Masala director continues.
"It may be some people's idea of publicity, not mine. I've been around for too long to let actors dictate to me. Akshay never showed the slightest inclination to invade John's territory. In fact, I've been in touch with John. Not once has he expressed any grievance against Akshay. So who are these people spreading these rumours?"
Priyadarshan: I'm a good actor
While Garam Masala was the biggest hit among the Diwali releases, Priyan's other Diwali release, Kyon Ki, starring Salman Khan and Kareena Kapoor, bombed.
"Kyon Ki was from my heart. Its failure broke my heart," says the director.
"I wanted to make films that I believe in. But now, it doesn't seem possible, at least not in Hindi where the market is dictated by formula. I might as well make films like Garam Masala and not lose my audience in Bollywood. I can make the more serious and experimental films in Malayalam where the market is more friendly to new ideas."
Priyan regrets the damage the failure of a serious film like Kyon Ki does to the star system. "People said Salman should not have died at the end. But that was my story! Why should I have changed the ending? Just to suit the Diwali mood? In that case, I should not have released Kyon Ki in Diwali. If films where Bollywood stars try to go beyond convention don't work, they will continue to do the same kind of safe films. No wonder big banners like Yash Raj Films make films based on formula. At least they're ensured of their success. In Bollywood, success is all that's respected."
Priyan says his next release Malaamal Express is a more believable comedy. "It's nothing like Garam Masala which was an out-and-out escapist comedy. Malaamal Express is more rooted to reality. It's for a more selected audience. If there were 300 prints of Garam Masala, only a 100 prints of Malaamal Express will be released."