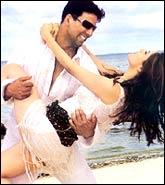 The first time you toss two balls into the air at the same time, you do it for a lark. Both objects have some value to you, and you're just seeing if you can actually pull it off. To raise the bar, you add a couple more balls, and keep those hands busier and busier. Soon, however, the balls don't matter as you're immersed in the swooping leaps and sleight of hand required to maintain the increasingly delicate balance. The balls don't matter anymore, but you're hooked to the juggling.
Playing the field works on exactly the same principle, and director Priyadarshan knows it. Which is why Garam Masala is perfectly cast: Akshay Kumar and aide-de-camp John Abraham are its protagonists; Paresh Rawal is a supremely crabby cook; Rajpal Yadav is a well-connected drunkard; and Neetu Chandran, Daisy Bopanna and Nargis are three flighty bits of fluff, generic assembly line bimbettes, appropriately interchangeable for their task of great insignificance -- they are the jugglees.
| | |
| --- | --- |
| | More on rediff.com ! |
| | |
Akshay Kumar plays Mac, a silvertongued but essentially likeable weasel. He's a flirt, engaged to wed Rimii Sen. He doesn't have much luck with women, or his career, but when a bunch of opportunists seem to pop into his life with all kinds of dreamy offers, he bites. Suddenly, he finds himself stirring an ambitious fiancée soup, dating three airhostesses and driving supercars he doesn't own.

He rises to the occasion admirably. Even as he meticulously takes down flight schedules and itinerary details, he finds himself flummoxed on many a turn, where he lies magnificently through his teeth. Soon, he's 'in the zone', and a complete player, addicted to the thrills of infidelity. But, as we say, it's not about the sex and the women – okay, maybe we'll say not just about them – it's about the craft, the machinations, the improvisation. Now, it's about the Game.

And everyone is a co-conspirator. John Abraham is Sam, a smarmy stud with an exuberant lack of scruples. While managing to wangle his way to a promotion, a foreign trip, and a kiss from office receptionist Maggie (a moment Mac bitterly reacts to by proclaiming his three 'item-bombs' worthy of making the receptionist look like noodles), played by Neha Dhupia, he knows he ain't got game. He looks up to Mac, despite the obvious rivalry, and when he sees the love nest, Sam decides to move in as acolyte.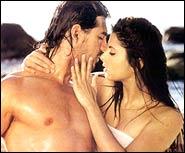 Mac is a pro, and wants Sam out of his life, but has to begrudgingly admit that he's a huge help with the ladies. Sam might act unflappable with others around, but grovels in front of Mac to let him stay. Beneath the egos and competition, however, it's pretty visible that these two like each other.
Another man stirring the broth is Paresh Rawal, the oddly named Uncle Mambo, a moody chef who wants nothing to do with women, ever since his wife ran off with his younger brother. He has been warned about women in the house, but is unaware his domestic duties would involve shuffling pictures in and out of photoframes, and making three different kinds of dinner on the same night. Justifiably, he often flies off the handle and vainly demands a never-forthcoming raise.
The film is often predictable, but the plotting is quite sharp. A remake of the 1965 Boeing Boeing, starring Tony Curtis and Jerry Lewis, it's obvious that a lot of the structure must have been lifted from the original, but the script itself flows along with terrific gusto. The dialogues are funny, often underplayed, and there are several true big-laugh moments when you least expect them.
There's a startlingly fine moment when Mac and Sam are devastated by the airhostess-surfing game they play. They've barely managed to disengage from a lethal imbroglio, and look set to quit while they're still ahead. Both men are exhausted, downbeat and seemingly resigned to their fate. They size each other up and sigh wearily, and just when you're sure they're going to throw in the towel, they solemnly make their decision. 'One for you, two for me,' Mac mutters, as if it's the most natural thing in the world. Sam, equally cool, nods and seals the deal.
It's the kind of scene that warms your heart. A film like this will always end with a reforming of the hero and a convenient, hurriedly tacked-on happy ending. No surprises there. But a moment like this, considerably before the climax, shows the director's admirable yearning to stay true to his characters. Nice.
Akshay Kumar rocks the film. In a commandingly restrained performance, the actor shows off topnotch comic timing to hilarious effect. Balancing subtle shifts of tone with wildly over-the-top slapstick, he manages to always get a laugh – even when the script falters. There's a self-deprecating aspect visible in Akshay's comedy that adds warmth to the film. And he counters his goofy grin with a terrific display of deadpan dialogue delivery. This is his film, and he's having a ball.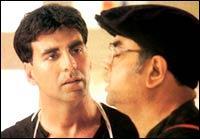 Speaking of deadpan, the master is in usual super form. Paresh Rawal's very appearance on screen is enough to make you brace yourself for laughs, and he doesn't disappoint. He's been given some fine lines, sure, but more often than not, he steals the show with a superciliously raised eyebrow or taunting scowl. Rajpal Yadav is, as always, around and inevitably snigger-provoking.
John Abraham is a fair bit away from applause, though. His constantly exaggerated character needed more flair, and John, stumbling valiantly over sofas and for words, just isn't good enough, yet. He well overdoes his ebullient bounciness, and while he boasts of an enviably trendy wardrobe, a couple of fleeting moments are about all he manages. Still, while he may be the film's weakest link, he's mostly harmless, and Garam Masala has enough laughs to shoulder him.
In fact, the film should provide John with another blockbuster. If there's only one film you intend to watch this Diwali – and that is the sane course of action – I recommend this one. Judging from a full-house audience constantly convulsed with laughs, I would be very surprised if this isn't a hugely successful hit. The film has flaws, but more than enough charm to be classified an ideal romp. Sure, it's often inane, but very easy to jump into.
I can't remember when I have laughed out loud more frequently in a movie theater. Garam Masala is the funniest film of the year.
Mr Priyadarshan, well juggled.