On November 2, Bollywood's badshah Shah Rukh Khan will turn 40. To celebrate the grand occasion, rediff.com asked readers to send in their SRK experiences, if they had ever met the star.
The response was tremendous, and here, we showcase some of the responses we recieved.

Priti Kapoor: Can you imagine meeting Shah Rukh Khan in his own home! That was one of the most memorable moments. This was after Fauji, and when he was very popular in 1988-89.
I was in Class VII or VIII and had gone to my grandmother's house for the summer vacations in Delhi. Some of my friends said they knew him and could meet him for an autograph so they called him. He was about to leave home after 10 minutes, so he asked us to come over. My borther and I ran with our autograph books to the next street to meet him.
Seeing him in person at his own home, we did not know what to say! I just sat quietly and he signed (amazing handwriting!).
I have his autograph till today.
 'I met SRK before he became a star'
Bhavin: I'm a visualiser/ designer. One of my projects was to design Asoka's official website.
I was so excited when I first met SRK for a meeting in his office in Bandra. We shook hands when we met. I had designed the layouts for Asoka, and he liked them. He explained how he wanted his pictures to be viewed.
Later, I met him again when I was entering his office. He met us at the steps, smiled and said 'Hi.' After that, I became a big fan!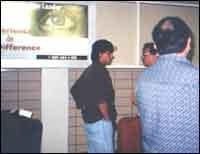 Payal Kaur-Aggarwal
: Here is a picture I took of SRK at Detroit Airport, USA, on September 11, 1998, as he arrived for a concert.
Tina Talwar: I got a chance to meet SRK in 1995, near Panvel. I was preparing for my Std 12 exams. A friend of mine told me that there was a shooting going on in a railway station near our house for a movie called Dilwale Dulhaniya Le Jayenge, and Shah Rukh Khan was in it. I have always been a big fan of SRK since his Fauji and Circus days, so I decided to go to the shoot.
The climax scene of DDLJ was being shot. Luckily, they had a break, and Shah Rukh was sitting with the extras on one of the station benches. I thought it was my only chance to get his autograph, so I gathered courage and walked towards him with my brother. I still remember I was so nervous and tounge-tied that I just stood in front of him with a picture of his. He saw that and said, 'Oh! So you have my photo. That's great. What's your name ?'
All I could say was 'T... T... Tina.'
He laughed at my plight and asked the same question to my brother. Finally, he got my name and we got his autograph. 
It's been 10 years since and I am still a big fan of his. I think along with being a good actor, he is also a good human being. I had seen him interacting with his fans on the sets with such warmth and respect.
Raju Shah: I met him in New York City last week, shooting for Kabhi Alvida Na Kehna. He is such a gentleman. His security guard told me not to go near him but he called me right away and let me take a picture with him. He is so humble and polite. Wish him good luck!