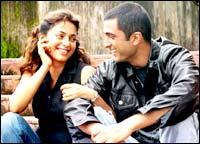 A day in the life of Nikhil Kapoor:
His employer sacks him for being HIV-positive because everyone in the office is petrified. What can Nikhil do? He smiles weakly and disdainfully wonders if he isn't the one with real cause for concern. Being HIV+, he could easily succumb to any infection from anyone in the staff.
This is just one of the many humiliations he has to face for being infected by a taboo disease.
Director Onir's debut, My Brother… Nikhil deals with the trauma of a bright young swimmer whose life and dignity are snatched, the minute it is discovered he is HIV+. It also shows the social stigma and extreme reservations attached in the minds of both the ignorant and the informed, when it comes to AIDS.
Set in Goa, the film spans Nikhil's (Sanjay Suri) life from 1987 to 1994, when AIDS awareness was considerably low. The story is told to the viewer through the experiences and points of view of Nikhil's father (Victor Banerjee), mother (Lilette Dubey), friend (Purab Kohli), girlfriend (Dipannita Sharma), lawyer (Shweta Kawaatra) and sister (Juhi Chawla).
| | |
| --- | --- |
| | More on rediff.com ! |
| | |
Life is as picturesque as the view from Nikhil's sea-facing villa before HIV happens. The repercussions of this unexpected development will change his life forever.

Once his father coached him to be a winner. Nikhil, on his part, realized his father's dream by winning the state swimming championship. But now, when Nikhil needs him the most, he abandons his son.

Once his mother would never get tired of pampering him. But like her husband, she too isn't there for her 'little boy' when he desperately requires support.

His so-called girlfriend Leena is no better. The parents' disgust towards Nikhil is almost shocking. It eventually develops into regret and embarrassment, but not without a justification of their actions.

Hope of survival comes in the form of his sister Anamika who, along with his friends Nigel and Sam (Gautam Kapoor) and the lawyer Anjali fights unflinchingly for the cause of her brother. And eventually succeeds.

This is not the end though. Nikhil is yet to be acknowledged by his parents and accepted in society. Does he get this?

My Brother… Nikhil is an impressive debut by Onir. Though it begins meekly on a trite note, it develops into a serious film, which tries to educate without being overtly preachy -- whether about an individual's constitutional right to freedom or the distinction between HIV+ and full-blown AIDS. It maturely handles the subject of homosexuality without a single suggestive scene. Though somewhat similar in its storyline to Revathy's Phir Milenge, which dealt with an AIDS patient (Shilpa Shetty) suing her company for firing her, My Brother… Nikhil is more personal and explores the victim's fears and frustration.

An emotional subject like this would only work with poignant performances. And the cast doesn't let you down one bit.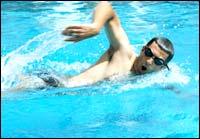 Victor Banerjee and Lilette Dubey are seasoned actors. Through their strong screen presence and power of conviction they effortlessly convey the conflicting nature of their characters. Purab Kohli as Nikhil's friend and more is adequately sensitive.  
There is an aura of goodness that surrounds Juhi Chawla's personality. The script exploits it to the film's advantage. The actress lends unconditional warmth and strength of character to play Nikhil's supportive elder sister.
But it is Sanjay Suri in the principal role who steals the show. His transformation, from a vibrant youngster to a disgraced HIV patient seeking acceptance and the fundamental right to co-exist, is remarkable. The soft-spoken actor is often underestimated or lost in commercial potboilers. Here, however, he makes his presence more than felt.
My Brother… Nikhil isn't amusing fare. So there is no question of entertainment or popcorn value. It's a heartfelt experience  which terrifies and touches.