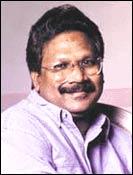 Ace director Mani Ratnam has announced he will direct Netru Indru Naalai 2005, a mega musical event put together by Star Vijay TV that will take the audience through Tamil cinema's evolution. The best of Chennai's talent is being involved with the event -- other names are director and ad filmmaker Rajiv Menon, who will do the lighting and pyrotechnics, and art director Sabu Cyril, who will do the sets.Part of the proceeds from the 4-hour event -- slated for mid-August -- will go towards The Banyan, a Chennai-based NGO. Another highlight is that composer A R Rahman will compose a special tune for The Banyan, but at the press meet called to announce the extravaganza Rahman in his inimitable style spoke for all of 15 seconds.
Other marquee names expected to perform at Netru Indru Naalai 2005 are actors Kamal Hassan, Abhishek Bachchan and Madhavan, and a whole lot of other stars. The technical team behind the event include Mani Ratnam's wife Suhasini, director Vasanth and choreographers Brinda and Kala, among others.
Exchange4media.com has quoted Harsh Rohatgi, Star Vijay TV's deputy general manager as saying, 'Netru Indru Naalai 2005 is by far the biggest event in South India in terms of scale and celebrities performing.'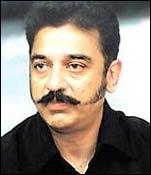 The web site also quotes Mani Ratman as telling the media, 'We want to go beyond what audiences have seen so far. We can create a spectacle -- a musical -- in India, on the lines of Broadway. We have the dreams and the technology to go with it. We will attempt to recreate moments from the past highlighting the stages in the evolution of Tamil cinema.'
This will be the tenth event to be produced by Star Vijay TV. Says Rohatgi: 'Events are important for our channel as they are one of the opportunities to get close to the viewers, and hence play a critical role in reaching out to our audiences.'
Star Vijay plans to telecast the event around the end of August, in two capsules of two hours each.