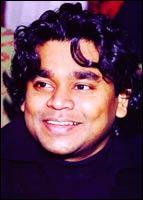 A R Rahman has had enough of period films. In fact, he has decided that Mangal Pandey: The Rising will be his last period film.
"(I've done) Too many period films in Hindi -- 1947: Earth, Zubeidaa, Lagaan, The Legend Of Bhagat Singh, Water, Bose: The Forgotten Hero, Kisna," he explains. "I've worked hard on each of the themes but the end result hasn't been worth it. The songs were either pushed into the background or not used at all. Or worse still, used badly. I feel very frustrated by this. But what can I do? Composing tunes is my job. How they are used is not up to me."
For example, Rahman was unhappy with the way Subhash Ghai used his track Hum hain iss pal yahan in Kisna. "Though  it was a love ballad, it wasn't sung by the lead pair (Vivek Oberoi and Isha Shervani). It was placed in the background. That killed the song's impact."
But the worst experience was Bose: The Forgotten Hero. "It's become Bose: The Forgotten Music," Rahman jokes. "Sahara had promised a grand launch for the music and a grand premiere for the film. But none of it happened. I had worked really hard on the music but it came to zero. But after Zubeidaa and Bose, I'm doing another film with Shyam Benegal. It's a full-on musical."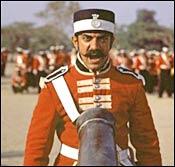 Now, Rahman hopes to make contemporary music. "All my Hindi assignments at the moment including Rakesh Mehra's Rang De Basanti and Abbas Tyrewala's romantic film are contemporary subjects. I'm done with period films now. I think Mangal Pandey would be last film of that ilk."
Rightfully proud of his compositions in the just-released Mangal Pandey, Rahman reveals how he had been offered three films about freedom fighters including Roland Joffe's The Invaders. "But I chose Mangal Pandey. Yeah, the fact that Aamir Khan was in it did influence my decision. Aamir and I gelled well during Lagaan. In fact, I'm really proud of my work in Lagaan and 1947-Earth, which also starred Aamir."
Water, the last part of Deepa Mehta's trilogy, after Fire and 1947-Earth, is now ready for release. It's the first project where Rahman has scored the songs but not the background music. "I moved away because of the controversies surrounding the film. What's the point of creating music for a project that makes some people unhappy? But I saw Water recently. And it took my breath away."
Does Rahman have any favourites among the current music composers? "I like M M Kreem's music. His Jadoo hai nasha  hai in Jism was a surprise. And I like a couple of Pakistani songs which have been used in Hindi films like Murder," he signs off.