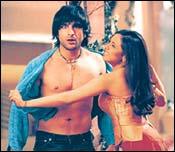 Did Sharmila Tagore, chairperson, Censor Board of India, twist the National Film Awards jury's arm and spin the Best Actor award for her son Saif Ali Khan for his performance in
Hum Tum
?
Sudhir Mishra, who headed the 17-member jury, handled this bouncer at a press conference in Delhi by saying, "We are ready to defend the our decision. His acting is better and has improved a lot."
"It is you who has brought up the issue of mother and son. We did not think about it at all," singer and jury member Preeti Sagar added.
Saif, Tara bag National Awards
She said Saif had done a wonderful job in the film and it was not necessary to give an award to a 'heavy' performance all the time. "We tried to be different this time," she said.

Many who have seen Hum Tum thought the argument to justify the film was outrageous. "Saif's acting is average but certainly not worth an award," a senior scribe said.

On the controversial decision to give a joint award to Yash Chopra's Veer-Zaara and Cheran's Tamil film Autograph, Sagar said both the films were wonderful, and that filmmakers outside Hindi cinema also needed to be encouraged.