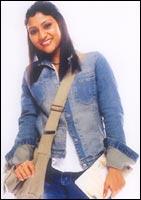 I am sure William Shakespeare had no idea just how amazingly clairvoyant he was when he wrote in The Tempest: Hell is empty and all the devils are here.
Madhur Bhandarkar's refreshingly original and hard-hitting film Page 3 takes a merciless look at the horned fellas.
The film makes you wonder: What is Page 3 anyway? A culture of trivial pastimes and idle gossip that is fodder for the blue brain? A human zoo where all kinds of herbivores and carnivores hang out in high spirits? Or just a social phenomenon that amounts to stooping or rising, depending on your morality levels?
Whatever it is, the concept is still evolving. And will continue to be hugely popular along with its successor, reality television.
| | |
| --- | --- |
| | More on rediff.com! |
| | |
Digressions aside, Page 3 is the story of a rookie journalist, Madhavi Sharma (
Konkana Sensharma
). A former army officer's sensible and ethnically dressed daughter, she comes to Mumbai with hopes of making it big in the media glitz blitz.
She shares a flat with a practical airhostess, Pearl (a typecast Sandhya Mridul Singh), and a starry-eyed struggler, Gayatri (a self-conscious Tara Sharma), and works for a meticulous editor (an impressive Boman Irani).
Through a series of parties thrown by rich socialites and celebrities, we are introduced to a bunch of dysfunctional and debauched characters. Businessmen, politicians, social workers, cops, publishing moguls, models, fashion designers and actors constitute this high profile motley crew. While the paparazzi covers the perfect hosts and their glamorous guests, the shocking reality of every event unfolds through the tongue in cheek chats of drivers in the parking lot.
In the process of covering these parties, Madhavi finds love in a promising model -- Tarun (an inexpressive Jai Kalra).
A whole lot of issues are explored through different protagonists (Soni Razdan, Maya Alagh, Navni Parihar, Suchitra Pillai, Kunika, Anju Mahendru, Rehaan Engineer) who are regularly featured on page 3. Big-time scandals -- ranging from disturbed families, depression leading to suicide, cheating spouses, wife-swapping, drug peddling, child prostitution and casting couches -- unfold here.
Taboos like homosexuality and bisexuality come out in the open. Backbiting, bitching on the phone, networking at celebrity funerals and the vernacular press grudging the special treatment meted out to English-speaking journalists are other issues Page 3 reflects tersely.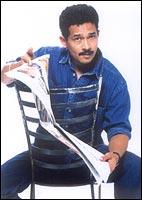 While films like Rangeela and King Of Bollywood mocked tinsel town and its clownish inhabitants, Page 3 shows them up as ugly and pathetic.
Though the script may appear somewhat judgmental, the viewer doesn't object. Reason: the film is seen through the eyes of Madhavi. She may bend the rules now and then, but her middle-class values are sound.
To Konkona's credit, she proves to be Page 3's trump card. She brings a sense of ground reality to the subject. If any other actress -- say a Bipasha Basu or a Lara Dutta -- would have done it, the 'star' aspect would have blemished the genuineness of Madhavi.
Madhavi is Page 3's only moral voice. She guides the viewer through the farce, disgust, betrayals and the shady deals of the world within and outside page 3.
At the end of the film, compromises are made and priorities decided.
Strong on script and execution, Page 3 is extremely engaging. Another good thing is the songs play in the background and do not affect the pace.
But the movie has its share of drawbacks. For starters, the story ends on an ambiguous note. The character actors tend to go loud while essaying superficiality, making them unreal at times. Technically too, the film has tacky sets and average photography. The romance between Tarun and Madhavi is forced and under-developed. In contrast, the brief interactions between Madhavi and her colleague Vinayak (Atul Kulkarni, reliable as always) are warm and appealing.
Post-Chandni Bar, director Madhur Bhandarkar raised expectations for better cinema. After fumbling in a couple of films, he has proved his mettle yet again with Page 3.
Trilok Gurtu's World Music Concert. Buy tickets here!