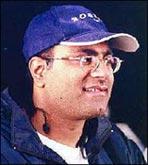 The next name on the Yashraj block is Arjun Sablok. You could have seen him, but may not remember him, considering he has played just one minor role in the past. That was Dilwale Dulhaniya Le Jayenge, where he played Shah Rukh Khan's friend Rocky.
Sablok then turned to direction, and gave us Na Tum Jaano Na Hum – starring Hrithik Roshan and Saif Ali Khan – which flopped. He's back in that chair though, and seems pretty confident about his next offering, Neal 'N' Nikki. Patcy N decided to ask him a little more about it.
How did you get your first break?
I got it through Zee TV, and a series called Yule Love Stories. I did the first four episodes and they wanted me to do the rest as well, but I knew somewhere inside that I wanted to do films. I also did a telefilm for Yash Chopra, called Hum Ko Ishq Ne Mara, which was aired on Star Plus.
What about Neal 'N' Nikki?  Did you approach the Chopras with the idea?
I was doing commercials for the Chopras and also did the Dhoom music video, when Aditya asked me if I had any movie ideas. I wrote a script and narrated it to him. He liked it. And that's how this started.
| | |
| --- | --- |
| | More on rediff.com ! |
| | |
Why do you think Aditya Chopra approached you despite the fact that your first film hadn't done well?
I think it was the ads and the video for Dhoom. He also liked my work in Na Tum Jaano Na Hum and felt that the script was a problem, not the direction. I think he liked the director in me.
Was getting inside the Yashraj camp difficult? Were you given enough freedom?
I don't think there is a camp system. I think talent is always recognised. The thing is, once you work with the Chopras, you want to do it again. I love going to work every single day because I work in a very positive atmosphere. There is a lot of energy and creative juices flowing. At Yashraj, you are given a free hand to create. Aditya Chopra is the kind of producer who sits with you right through, from the script to the sets. You can bounce ideas off him but, once you are on the field, you're on your own.
How much is the final product yours?
All of it. Suggestions are given and joint decisions taken, but you are not forced to do anything. There is a lot of teamwork involved, of course. The film was shot in Canada and Aditya wasn't around, so there was no question of interference. I didn't have to do any re-shoots either.
Tell us a little about the plot.
The film is about a guy called Neal, who has 21 days left before he has to marry. He decides to sleep with 21 women, but has trouble finding them. In the meanwhile, he keeps running into a girl called Nikki, who makes a deal with him and says she will help him get lucky with women. It is not a regular love story.
Don't miss: Neal 'N' Nikki: story in pictures
Why did you set it in Canada?
That's where I come from. I have seen kids grow up in Canada. They are used to an environment that's more open, and that's what I wanted to capture.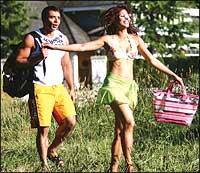 Who decided on the cast?
It was my decision. The most beautiful thing about Yashraj Films is that the story is decided before casting begins. We don't work backwards, which is why we make great movies. I had been watching Uday Chopra for a while and felt he had not been given the right role in the past. So, when I wrote a modern romantic comedy, he fit perfectly. But I didn't want to test just a boy or a girl. I wanted to test a pair together. Aditya suggested Tanisha, and their physical chemistry was tremendous. I wanted two people who would want to rip each other's clothes off and get into bed the minute they got close. That is the kind of chemistry I found here.
Uday Chopra is Yash Chopra's son. Was he difficult to work with?
I have known Uday for a long time and we are good friends. I am also familiar with his sense of humour so it was very easy to get him to work the way I wanted him to. If he were to throw a tantrum for his brother's film, I would have asked him to speak to the producer (laughs).
What about Tanisha?
I think she is fabulous. Every actress has her own flow of energy. Tanisha was doing roles against the flow. Nikki Bakshi is close to the way Tanisha is in real life. I think she has justified the character. I wanted a girl with zing and naughtiness -- a big flirt with a big list of boyfriends. She fits into it.
Will an Indian audience accept this theme, considering it is rather bold?
There's nothing bold. If you can share a naughty joke with your friends or parents, you can share Neal 'N' Nikki with them too. There is nothing we are doing that isn't happening in our lives.
Is there a particular anecdote from the sets that you recall?
It was August 15, and we were shooting in some vineyards in Canada. My entire character artist team had come from India and, after we packed up, they wanted to sing the national anthem. So, we made a huge circle and even the Canadians joined us. That was very touching.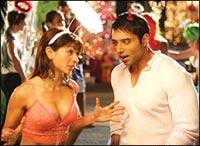 What are your expectations from the film?
Neal 'N' Nikki is a very naughty film. At the same time, it is very real. People will be able to associate with the characters. Hopefully, we will start making more movies with different sensibilities. I hope this film will represent what modern India is.
Any other projects in hand?
I am planning my next film with Yashraj, but have yet to decide on the story. I have still not spoken to Aditya, but it is mutually understood.