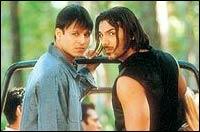 A quick Google seach tells me it was John Greenleaf Whittier -- please don't ask me who he was or I'll have to search again -- who said, 'For of all sad words of tongue or pen, the saddest are these, "It might have been!"'
Why was I Googling for those words? Perhaps because they are perfect to describe Shah Rukh Khan and Karan Johar's production, Kaal. It might have been a very good film.
It had, one must admit, an interesting plot, breathtaking locales, slick sound -- which startles you even if you were laughing a second ago -- as-good-as-Hollywood camera work and star power, with Shah Rukh and Malaika Arora Khan in a pretty peppy 'item' number that plays during the opening credits.
| | |
| --- | --- |
| | More on rediff.com! |
| | |
But all of that falls through, because of humongous holes in the script, corny dialogues and typical overdone Bollywood drama.

 

Krish (John Abraham) is a tiger expert. The kind that runs after anaconda-esque snakes and gives them bear hugs, not letting go of the jhappi when National Geographic calls to tell him to go to Orbit National Park (yes, that's what they've named the Jim Corbett National Park) where a man-eating tiger has killed a foreign expert. Adjusting a part of the snake around his arm, he hangs up to tell his wife Riya (Esha Deol), 'Holiday over.'

 

Dev (Vivek Oberoi) is a yuppie who loves all things gizmo. He revs his SUV on a holiday with his girlfriend Ishika (Lara Dutta) and two friends Sajid and Vishal (Kushal Punjabi and Vishal Malhotra), says 'cut the crap' at every near-death experience and ignores his mini-skirted girlfriend's advice that running over a black cat on a Friday is 'ashubh.'

 

Dev's Lexus goes kaput and he hires an ominous looking driver and his jeep to continue the joyride. The spooky driver spots Sajid's revolver (which he keeps caressing the way Krish caresses anacondas) and asks them if they want to go to Orbit, which is big game country.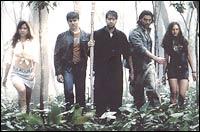 The two Orbit-bound teams meet in the middle of tiger country when Krish's hired car goes kaput and Dev's drunk driver rams into it.
All the while, ominous sounds and camera angles convince you, as Sherlock Holmes would have put it, that 'the game is afoot.'
Soon, it becomes clear why. A growl and Krish's erstwhile driver vanishes. The same night, the guide -- who has been waxing eloquent about his jungle skills -- is dragged away into the jungle, to be discovered later without his head.
Meanwhile, Dev, Krish and party move around in the 'core area' of the tiger infested jungle, stopping where they want to, or where their car wants to, armed with a revolver that would do some serious damage to a fly, were it to sit on a tiger's back.
They meet a stick wielding, mysterious figure Kaali Pratap (Ajay Devgan). Mysterious because there's shloka chanting in the background every time he appears (could only make out the word pushtivardhana, which to my limited knowledge has something to do with nutrition) and he saves the tourists from three tigers. Obey the rules of the jungle or the jungle will kill you, is Kaali's advice to the tourists.
Run, run, while you can, the forest officer tells the now scared group. But routes out of the jungle are closed because of landslides, and only Kaali can show them the way out.
That you have to write so much to explain the plot and not give away the twist (yes, there is one) itself is a tribute to Soham, the debutant director whose brainchild the film is.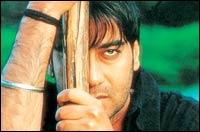 But how the tourists escape death will have you in splits.
Shots and sounds inevitably remind you of Bhoot and Vaastu Shastra, which, to my mind, were better.
And you wonder why the 'Orbiters' go about doing things that scream 'Aa tiger mujhey mar' -- as a scribe did, very aptly in the middle of a scary sequence.
Blair Witch meets Bollywood bloopers, I say. Karan Johar (Kaal is definitely more Ram Gopal Varma than Johar) might soon have his career's first flop, I say.
You might differ, and want to watch a mindless horror movie which, actually, has very little to do with tigers.
Send us your review of Kaal!

Exclusive Kaal Ringtones and more!