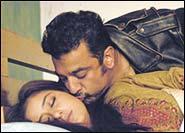 I
walked into a theatre screening the Tamil version of
Mumbai Xpress
after a three-hour encounter with the superstar, Rajnikanth. After having watched how a faithful, frame-by-frame reconstruction of a classic Malayalam movie can still turn out to be terrible, I was hoping for a movie that would be a cut above
Chandramukhi
.
And glory be, Mumbai Xpress put on display Kamal Haasan at his very best -- and better still, it was an original story! Mumbai Xpress is not just a cut, but a whole ladder above the rest!
Comedy in Tamil movies is usually slapstick. Senthil throwing a sack of flour at Goundamani's visage and laughing at the sight is about as good as it gets. But Kamal Haasan is an exception. He is the only actor to have starred in comedies that people actually find hilarious. Classics like Michael, Madan, Kama Raj, Pammal K Sambandham, Tenali and Pushpak come to mind.
| | |
| --- | --- |
| | More on rediff.com! |
| | |
Mumbai Xpress
is another movie in the same vein. Kamal Haasan plays Avinash, a partially deaf motorbike stuntman forced into joining a gang of kidnappers. The kidnappers plan to extort money out of a rich businessman.
The venture seems doomed from the outset. The gang leader is bitten by a horse, the car they're driving in has accidents and the kidnapper goes to sleep along with his victim, not to mention an unscrupulous insurance agent joining the party.
Things get messier when Avinash kidnaps the wrong kid, who turns out to be the police commissioner's mistress' child. But Avinash has a conscience attack, returns the kid home, and falls in love with the mistress. The whole story revolves around the ransom, mistaken identities and funny phone conversations.
Kamal proves yet again that he is among the nation's best comic actors. His performance is inspired, his one-liners and often ridiculous repartees left me (and the 15 kids, 12 software engineers and 10 engineering college students around me) in splits.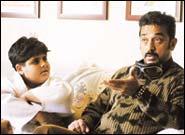 Earlier, all I had seen Pasupathy do was roll his eyes menacingly and yell, 'AEEEEYYY!' at the hero. Mumbai Xpress proves that Pasupathy can do a lot more, and do it well. His comic timing puts Kamal to shame, and steals the show in every scene that he is present on screen as the bumbling gang leader.
Ramesh Aravind, as the 'insoorance' agent from Andhra Pradesh, puts in a great performance, with a perfect Telugu accent and the go-getter attitude that insurance agents epitomise!
Manisha Koirala is, to sum it up in a single word, ravishing. She's shed a lot of weight and looks every bit the bar dancer who seduces the much-married police commissioner into a moment of indiscretion.
The dialogues are the highlight of the movie -- almost every line elicits a guffaw. The jokes, bucking today's trend, are not ribald and risqué, but of the kind that would get even the average 10 year old kicking the back of the seat in front of him in joy (of course, much to my dismay).
It may be exam time now -- but this is one movie everyone should take the time out to watch. After three hours of rolling on your seat, you'll be ready to take on anything!