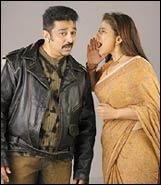 Kamal Haasan's carnival-esque comedy coaxes some laughs but leaves you feeling exhausted. Make no mistake, Mumbai Xpress has talent on board. But the film leaves you wondering where it got off!
Digambar (Vijay Raaz) and his two sidekicks -- codenamed B and C -- plot to kidnap the son of a rich, corrupt builder. They finalise their foolproof plan sitting on a rooftop in Mumbai's Dharavi.
But there is a minor hiccup -- C is rushed for an appendicitis operation. A (Digambar, of course!) and B are dissuaded from abandoning the plan by C's wife, who volunteers her multi-talented brother Mumbai Xpress in place of her husband.
Enter Kamal Haasan, the annoyingly deaf Avinash (Mumbai Xpress can only be a nickname, if you're wondering). Xpress jinxes the endeavour and a series of unfortunate events like horse bites, car crashes and accidents ensue. Eventually, Avinash manages to kidnap a boy but he is not the boy. A is livid.
| | |
| --- | --- |
| | More on rediff.com! |
| | |
The story changes track when realisation dawns that the kidnapped boy is the district police commissioner's son. The kidnappers panic and plan to kill the kid before the cops find them. Xpress decides to rescue the child. What follows is a complicated, unnerving ride of senseless comedy.

The supporting cast is brilliant but the lead characters are a complete letdown. Kamal Haasan fails to deliver as Mumbai Xpress aka Avinash. His legendary comic timing seems to have abandoned him on this trip and he looks ridiculous mouthing inane dialogues. His antics with the hearing aid are meant to amuse but irritate.

You almost feel he has bought into his own superstardom so completely that he is incapable taking on the persona of an idiot savant anymore.

Manisha Koirala is unimpressive in her blink-and-I-am-gone role as Ahaliya, the DCP's mistress, who is actually the mother of the kidnapped kid. Her complete lack of comic timing comes as no surprise. A lesser-known actress could have fitted into the non-role just as well. Ahaliya's chubby son Daggu runs harmlessly along the movie and even evokes a few laughs.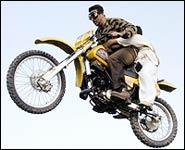 Raaz's effortless and brilliant portrayal of Digambar pulls the film out from the pits. The first half is tolerable only because of him and in the second half you yearn to see more of him.
Om Puri can perform any role with aplomb. And expectedly, he breathes life into the role of the confused and highly emotional DCP. Thankfully, some of the most gripping sequences in the film feature Puri. He does full justice to them.
Saurabh Shukla plays the role of Mehta, the builder, to perfection. The scenes between Mehta and the DCP are hilarious. Special mention for partner B, whose expressions and mannerisms leave you in splits. Pratima Kazmi, playing Avinash's sister, essays the role well, though she screeches the life out of you. Telugu superstar Ramesh Aravind is impressive as the heavily accented 'Madrasi' insurance agent.
The screenplay is impressive but Mumbai Xpress seems to have pulled the chain on the impressive line up of good comedies that Kamal delivered in collaboration with Singeetham Sreenivasa Rao. After films like Pushpak, Appu Raja and Michael Madana Kamarajan, this one is a letdown.
Kamal's obsession with hi-tech scenes is overdone and unnecessary. The use of computer graphics in scenes without stunts could have been completely done away with. The special effects are garish and superfluous. The aesthetics of the frames too are at odds with the not-too-serious content.
To sum it up, Mumbai Xpress is a poor man's superhero movie and an out-and-out children's flick. If you are the kind looking for intelligent humour, this one is not for you. After taking you through such a long ride, the movie ends abruptly, leaving you thinking that the joke was on you for watching the film!