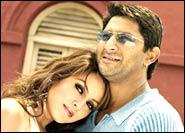 W
hen the script does not have any leeway in time or space, the characters have to be strong enough to grab your interest. Unfortunately, Samar Khan's debut venture,
Kuchh Meetha Ho Jaye,
is littered with such insipid people that you stop caring about them and their problems 20 minutes into the film.
The director introduces them as one-dimensional figures, and they remain so.
The gang -- four squabbling couples, two couples attracted to each other (one too young, the other over the hill), a drunk airport manager and his looney assistants, an unhappy daughter, an Italian and his two prospective wives, a drifting Gujarati with red hair and a lot of jewellery and an American mystified by India's spirituality -- is stranded at the Ganganagar airport. And they find it the best place to sort out their problems.
| | |
| --- | --- |
| | More on rediff.com! |
| | |
Apparently, they have the same problems and come to the same solutions. Predictably, the squabblers decide not to split up and the others promise to live happily ever after.
You can't get too involved with them because you don't know any of them. They are too superficial and fickle-minded. And just like Gulab (Mahima Chaudhary), who strips off her burkha to enter into an ultra-modern, ultra-mini skirt and top after her in-laws leave the airport, the movie is pretentious.
It is also supposed to be funny in all the chaos. But the jokes are either overdone or non-existent.
The screenplay travels from one uninteresting situation to another. By the end of first half, the only interesting character is sleeping on one of the benches with his face covered by a newspaper.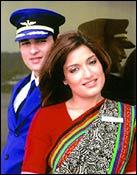 And Arshad Warsi! He's here and there, popping in and out of his office. A desi hip flask is his constant companion to keep away Mahima's memory.
Yes, she comes to the airport every year. He keeps thinking about her but never tells her that he loves her. Mahima's husband (Nassar Abdullah) also never tells her that he loves her. And she doesn't know that both of them love her, until that eventful day. The tale entangles and disentangles itself with such lack of finesse that it almost becomes hideous.
The stories are unconvincing; the songs jar.
Yes, this film is a journalist-turned-director's first venture, and everyone needs time to settle into their new clothes. But here, they just don't fit. Samar Khan has tried a novel idea but failed to narrate it well.
The only time the audience really started howling was when our snoozing bench-warmer woke up to be none other than Shah Rukh Khan.
Then, like a true superstar, he became the healer of all the smaller left-out problems.