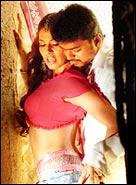 If you want to know what Sachein (yes, the numerologist seems to have been at work) is all about, here goes: College boy meets college girl, falls in love, and declares his love.
The girl does not believe in infatuation and vociferously spurns the boy's love. But finally, the girl falls in love with the boy but does not divulge it to him -- it would hurt her ego to do so.
The film ends with the boy and girl in a tight embrace but only after some suspenseful moments. No, it's not at a railway station but at an airport. So instead of the train's horn, you hear the announcement: 'passengers are requested to proceed for a security check...'
Though the story and situations are predictable, what makes the film interesting is the way writer-director John Mahendran has shaped Sachein's character. And Vijay is simply adorable in the film! He may be in his early 30s but looks every inch a college student, unlike Ajith in Ji.
Hugely successful action films like Gilli, Thirupatchi and Madurai have given Vijay numerous young male fans but with this film, he is all set become the darling of the teenagers. He oozes style and innocence, and his portrayal of Sachein, with a tinge of comedy, is quite novel and endearing.
Genelia's character Shalini is not just a dancing doll. She is as important in the film as Sachein, which is a rarity in a Vijay film. For instance Trisha, the top Tamil female lead now and Vijay's co-star in his earlier blockbusters, has never had a strong role opposite Vijay.
But it seems no other actress could have portrayed Shalini with so much energy and innocence as Genelia. She matches up to Vijay in acting and style too.
John Mahendran told rediff.com that Bipasha Basu is not an item number showpiece in the film. I would say her item number is most disappointing and her character is redundant and forgettable. In her scenes with Genelia, Bips looks like her aunt!
Even in sex appeal, Genelia wins. It is ridiculous to see a jaded-looking Bipasha trying to seduce a much younger-looking Vijay. She looks more like an agony aunt to Genelia than a seductress to Vijay!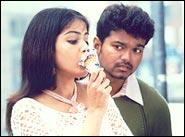 There is a lot of daring action from Vijay, never mind whether they are needed.
Though it is a college story, nobody is ever seen going to class, and there is no talk of studies either. The only thing they discuss is love. You also will not get any idea what they study.
Are Vijay and Genelia classmates? No idea. But they seem to finish college at the same time. 
Yes, Sachein is one of those films you should not question, just watch and enjoy.
But I can assure you one thing. The film will stay in your mind for a while because of the way Mahendran has shaped the characters, and the way Vijay and Genelia have portrayed their roles.