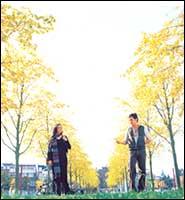 The first thing that strikes you at the end of Hum Tum is that it does an almost perfect job of casting.

The entire cast, with the sole exception of a fleeting appearance by former MTV veejay Shenaz Treasurywala, turns in performances that are as close to impeccable. This is the kind of film that deserves the tag of 'casting coup', bringing together such diverse talents as chocolate of the Seventies and Eighties Rishi Kapoor; Rati Agnihotri; the versatile Kirron Kher and, of course, the lead protagonists Saif Ali Khan and Rani Mukerji.

While it comes remarkably close -- by Bollywood standards -- to being a sensitive, mature look at the age-old boy-girl relationship, Hum Tum also constantly teeters on the edge of becoming a chick flick. Unfortunately, it stumbles at the tape and becomes just that: a feel-good, mushy thing you wish had ended ten minutes earlier.
Read the earlier review of Hum Tum!
Would you like to review this film? Send us your review!

Blame it on the box office. After all, Kunal Kohli, whose earlier Mujhse Dosti Karoge, was an unmitigated disaster, is in it to make money. And as we have just seen in the Indian elections, it is the people who laugh last. 
And so Hum Tum tugs at your heartstrings, makes you laugh and rejoice in the vagaries of loving and losing without losing itself in that abyss that has claimed many a Hindi film: mushy sentimentalism.
The story starts innocently enough: boy (Karan, played by Saif) meets girl (Rhea, Rani) on airplane to New York, have a six-hour stopover in Amsterdam, where they explore the city and manage to sing a song as well. They end up in New York with Rhea hating Karan from the depths of her moral heart (for having kissed her in Amsterdam). Somewhere in Amsterdam, the director or his assistant also suffer from a continuity issue, as Karan's jacket suddenly goes missing. Rani, we presume, stuffed her thinner one into her carryon.

The story progresses, spanning a period of seven years, during which Rhea gets married in the US, is widowed and moves to Paris, struggles to carve her own identity and keeps meeting Karan in unlikely places, including her own wedding, and ends up realising that love is a many-layered thing -- as does Karan. Remember When Harry Met Sally?

As an aside, the film is also a tribute in sort to the increasing global movement of people, as the characters move from India to Amsterdam to New York to Paris and back to India, while thankfully steering clear of the mushy romanticisation of the Indian diaspora that has overtaken us in such films as Pardes, DDLJ and KHNH.

Through it all, the story is interspersed by the animated characters of Hum and Tum, which Karan has created and syndicates for a newspaper, who argue constantly about the gender divide.

The animated characters effectively are the Sutradhars who inject debate into the narrative. Here, they merely move the story along a seven-year timeline. As a narrative device, they add little, even though Kohli must be cheered for the experiment.

If anything, in fact, the cartoons prove that Indian animation is as good as any in Hollywood and credit for the execution must go to Prakash Nambiar of Kathaa Animations.

In terms of performances, Saif reprises his urbane self from DCH and KHNH, peppering it with occasional fits of introspection and angst, and marking himself as an actor whose time has come. Rani is her usual collected self, changing into the many hues of her character with the ease of a chameleon.

But the revelations are the golden oldies -- Kher, who is brilliant as a Punjabi Delhiite mom, replete with mannerisms and accent; Kapoor, who pulls off an estranged husband, doting father and suave man of the world with equal ease; and Agnihotri, who plays Saif's mother, a harried wedding planner and forlorn wife to near perfection. And, oh, Jimmy Shergill, in a guest appearance as Saif's buddy Mihir, a soft-spoken, almost bumbling, foil to the brash and effervescent Karan.

Karan tries to set up Mihir with Rhea upon her return from Paris -- without telling her, of course, since she is trying to establish her own identity as a woman outside the boundaries of marriage. But he ends up with Diana Fernandez (played easily by Ishaa Koppikar) leaving Rhea and Karan back with each other.

In fact, Kohli approaches the issue of identity with some courage -- mark the restroom altercation between Karan and Rhea in the second half -- and almost makes a case for a woman who doesn't need marriage. Equally, through Karan,
he approaches by default the idea that a man can pass through life with a series of relationships without really needing to marry and 'settle down'.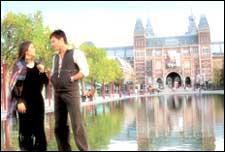 Again, the twin compulsions of Hindi cinema tradition and what we presume must be box-office pressure, draw him back from stepping over the Lakhsman Rekha. All the more pity, because it leaves you almost disappointed that Kohli should come this far and get cold feet.
After all, as Karan says at point, the greatest love stories are the ones that were never requited or ended in marriage (never mind Rhea's retort about the Taj Mahal).

Indeed, if one were to cut out the songs -- almost all of which are redundant and not too catchy, not to mention that Saroj and Raju Khan need to get some new moves in their repertoire, so take your restroom breaks -- the animated episodes and the last five or so minutes, Hum Tum would likely become an arthouse hit, thanks to Kohli's sure touch to which his cast responds admirably.

Not a must-see, but definitely worth watching once for the performances and for that indescribable affectionate, fuzzy feeling in the stomach that a well-made Hindi film invariably leaves you with.