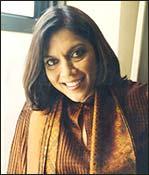 Sometimes, vanity can have strange consequences.
If you were an internationally acclaimed Indian director working with lavish budgets on Hollywood costume dramas after wowing festival crowds with a gritty take on the darker side of a Delhi wedding, complete with a marigold-chomping central character, what would you imagine your next project to be?
Adapting an Indian Pulitzer Prize winner's novel? Perhaps. Or even be in consideration for the next Harry Potter film.
What Mira Nair would not have expected is that her new 20th Century Fox venture would see her crafting a remake. Especially the remake of a big-budget, masala, song-and-dance Bollywood comedy.
Yes, Variety magazine has announced that Nair will be directing Gangsta MD, the Hollywood adaptation of Raju Hirani's mega hit -- Munnabhai MBBS.
In a first for Bollywood, Fox bought the script rights for the Hindi film earlier this year, and Chris Rock's name has been mentioned several times during initial speculations.
Now, it has been confirmed that Mira Nair will direct the venture, and it is to be re-adapted by screenwriter Jason Filardi, who last worked on the Steve Martin film, Bringing Down The House.
Gangsta MD is expected to hit movie halls in early 2005.
Mira Nair's most recent venture, Vanity Fair, opens in India on December 3.