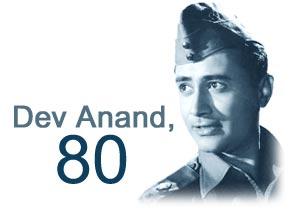 G Venkat Rao Naidu has been Dev Anand's associate for 50 long years.
As the actor-filmmaker turns 80 on September 26, Naidu pays tribute to his idol:
In 1953-54, I had gone to Prabhat Theatre, Hyderabad, to see Baiju Bawra. It was an air-conditioned theatre.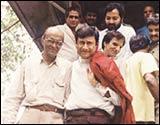 I saw a poster of Dev Anand in Armaan there. He was dressed in a kurta. I was fascinated. I didn't know who he was. The text was Hindi; I didn't know the language then.
That was my first encounter with him.
Soon, I ran away from home. I wanted to be like Dev Anand.
I came to Mumbai. I lived in Andheri [a northwestern suburb] and used to haunt the Iris Park area [between Andheri and Juhu] where he lived. It was open land, there were no houses, no buildings. There was just a big mountain, which was often used to shoot climax sequences for films.
I used to stand and stare at Devsaab's car as he passed by. I would be dressed in green trousers.
Devsaab used to see me standing there every day and each time he looked at me, I would hide. I was so frightened. I was a nobody.
We came across each other at Navbharat Studio [now Filmalaya]. As soon as he saw me, he said, "You are always chasing me. What the hell do you want?"
I said, "I want to be like you."
He said, "Go back home. Work hard. Graduate and then come back."
I replied, " I can't go back home, I have run away."
Then Devsaab's Manzil started (1955). Surendra Mohan, the chief assistant then, needed an assistant. I offered my services. Both of us were staying at the same guesthouse.
He took me on the sets of Manzil, where I met Devsaab. He watched me work for a few days, and said, "I know you."
I mumbled something because I felt very self-conscious.
I realised he appreciates people who work hard. He works hard and likes people who are not shirkers.
Then, Devsaab's assistant called me on the sets of Guide. I went to meet Devsaab who was sitting with writer Pearl S Buck. 
We struck a relationship and it grew. I went on to work in Teen Deviyaan, Des Pardes and his subsequent films. He encouraged me so much.
I remember the magazine [Filmfare] which carried the story about his marriage. He had a court marriage. There was this picture of his wife [Kalpana Kartik] sitting on a chair. He was standing behind her. The caption just said, 'Dev Anand is married.'
That is how we heard of it too. No fuss. 
As a person, he is so wonderful. He takes care of his staff. He is so encouraging, you won't hear a 'no' from him. Ever.
His passion is films, films, films. He spends the day working. He doesn't allow himself free time.
He always says he misses singing and dancing. He is a good singer. He often sings when he drives. He loves singing old songs. He also sits with his composers, lyricists and, more often than not, the lyrics are also his own. He hands them over to the lyricists to set in the metre.
He is a man of advanced thinking. He has his own style, his own thinking. He does not care whether a film is a hit or a flop. He just does his work.
If he wanted to, he could have made millions. But he preferred to do his own thing. And he is a quick thinker.
He is so charming that women fall for him. Men too love him -- he is a beautiful person. His behaviour, his decency attracts both the sexes to him.
He is a simpleton at heart with simple needs. If he is working, all he needs to eat are chana or muli [radish]. He is easy to please. I remember when we were shooting in Rajasthan for Main Solah Baras Ki, the food we had arranged did not come in. He asked someone to get food from the nearby village. We got bajra roti, ghee and gur [jaggery]. [Hero] Jas Arora and the other actors said, "We can't eat this."
Devsaab started eating it with great relish. No fuss, no complaints from him.
I have worked with him as chief assistant director, executive producer. I am the spot boy of the company as well as the owner. He has given me so much freedom and sense of belonging.
He wants to keep working. If you are ill, he will say, "C'mon yaar. What is this? Get up!"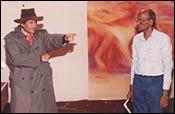 I suffered a heart attack when we were mixing for a film. He told me to rest. I said I would be back on the sets the next day. That is the kind of inspiration he is.
I believe if Devsaab walked through a cemetery all the dead bodies would get up. He has so much spirit, so much energy. He just calls people and they come to him. He has that magnetism.
If he had his way, he would make people give up wearing dhoti-kurtas and make them wear jeans. He always says, 'How can you work in a dhoti?' I keep telling him he would make even a pundit wear jeans.
He is in the US now planning to make a crossover film. I don't like it here without him.
He was my idol then. He is now, too.
Click here for More Nostalgia