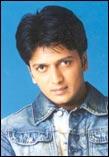 A bungalow is strewn with wires and cables. As we enter, we're in for a surprise. What must have been the living room is divided in two bathrooms -- one coloured red and the other blue. Peculiar, one would think.
We are on the sets of Indra Kumar's laugh riot, Masti. The film stars Ajay Devgan, Vivek Oberoi, Aftab Shivdasani, Ritesh Deshmukh, Tara Sharma, Genelia D'Souza, Amrita Rao and Lara Dutta.
Today, only Ritesh and Aftab are required for the shoot.
Ritesh is one of the early arrivals. Just a film old (Tujhe Meri Kasam), he is probably not too well versed with the Bollywood standard of time. He settles down to a late lunch of sandwiches.
| | |
| --- | --- |
| | More on rediff.com! |
| | |
Meanwhile, Indu
ji
, as Indra Kumar is called on the sets, studies the bathrooms. With mirrors, matching towels, mats, wall hangings and sideboards, the rooms look the real thing. Plastic sheets are hung outside the window, so that the light reflected lends the feel of early morning sunrays. Kumar tries out various camera angles. When he is satisfied, he steps out on the lawn where Ritesh is relaxing.
The scene to be shot shows a very nervous Ritesh dressed in a white embroidered shervani -- his wedding outfit. He's talking to Aftab on the phone, telling him what a nervous wreck he is. Aftab, on the other hand, is very excited. He cannot stop thinking about the bachelor party that he has planned for his friend that night.
Kumar offers more details: "Ritesh is very nervous and scared about his impending wedding. And usually, when you are nervous, you run to the loo! He phones his friend Aftab and shares his feelings. Aftab tells him that you are lucky because you are getting married and will have the 'license to have fun' while he isn't having much luck. Then Aftab tells him about the bachelor party."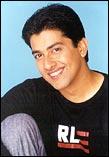 Masti is the story of three youngsters, Vivek, Aftab and Ritesh, who get married to Tara, Amrita and Genelia respectively. Devgan plays a police officer while Lara is the surprise package of the film.
The three men sport unusual looks in the film, courtesy hairdresser Aalim Hakim. Kumar explains, "The film is in three phases: when they are very young, before marriage and after marriage. Before marriage, they have funky hairstyles. Vivek has long hair, while Aftab has blond streaks and spikes. After marriage, they wear a toned down, deglamourised look."
Suddenly, there's excitement on the sets. It is the birthday of one of the technicians and the cake has just arrived. Everyone gathers at a large dining table and sings 'Happy Birthday' merrily. After everyone gets a piece of the Black Forest cake, nashta is announced. People stack their plates with fruit, dahi vada, samosas, sandwiches and mithai.
Aftab finally makes his entry on the sets.
The two actors and director start discussing and rehearsing the shot. They read out their dialogues. Doubts are clarified. Kumar looks a little irritated. Dusk is setting in and mosquitoes are out hunting. Besides, the October heat is getting to him and he needs a fan. While spot boys scramble to make the arrangements, the fans do not satisfy Kumar. He storms off to Aftab's air-conditioned van to continue the rehearsals.
Meanwhile, some technicians discuss how they will tackle the scene. The film will have a bit of special effects, particularly in this scene. While Ritesh talks on the phone, the technicians have to show sound travelling through the mobile phone.
After a considerable amount of time, Kumar walks in with the actors. They take their positions. Ritesh settles in the blue bathroom, while Aftab takes his place in front of the monitor with Kumar. Ritesh is required to say his lines in conversation with Aftab to get the timing right. The final look will have the screen divided into two, with Aftab and Ritesh talking into the phones.
Ritesh fumbles with his lines and asks for a retake. He also improvises a bit on the dialogues. Finally, the shot is canned.
A break is announced.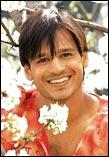 Kumar settles down with his family, who are visiting him on the sets.
Masti was earlier titled Khujli. Kumar explains the change of name. "I opted for Masti because I felt families wouldn't like the name Khujli. Masti sounded better," he says.
The director's last venture Rishtey (Anil Kapoor, Karisma Kapoor, Shilpa Shetty) bombed at the box office. But Kumar has moved on. "I don't know what my forte is. I just do my work. Beta was an emotional film, Raja was a drama, Ishq was a comedy and Dil was romantic. Actually, I have no forte. I just play my innings. Sometimes I hit a century and sometimes, I'm clean bowled!"
Masti, which has music composed by Anand Raaj Anand, is scheduled for an April 2004 release.
Click here for More Features