Karan Johar is only two films old. But this 31 year old is already one of the most sought after filmmakers of Bollywood.
The feel-good Kuch Kuch Hota Hai was all that was needed to kickstart his career as a director. And the melodramatic multi-starrer Kabhi Khushi Kabhie Gham simply seemed to cement his place in Bollywood.
For his new film Kal Ho Naa Ho, featuring Shah Rukh Khan, Saif Ali Khan, Preity Zinta and Jaya Bachchan, Johar seems to have relinquished the directorial reins to his assistant Nikhil Advani.
| | |
| --- | --- |
| | Also Read |
| | |
Johar admits to having influenced Advani in more ways than one, saying, "He [Nikhil Advani] is influenced by Aditya Chopra [Advani assisted him for Mohabbatein] too. He has also worked with Sudhir Mishra [for Is Raat Ki Subah Nahin]. So he has been influenced by all three cinemas that he has been part of. And there is a little bit of him also as well. I am one of his inspirations but not his total inspiration."

Johar himself had assisted Chopra during the making of Dilwale Dulhania Le Jayenge. He had also played one of Shah Rukh Khan's friends in DDLJ; Advani too featured in a small cameo in Kuch Kuch Hota Hai.

He is quick to add that Kal Ho Naa Ho is not a reflection of his previous ventures: "The movie has its own style, narrative and pacing. Nikhil has his own sense of visualisation. In that sense, Kal Ho Naa Ho will come across as a different movie, like Kuch Kuch Hota Hai and Kabhi Khushi Kabhie Gham. Since it marks the debut of Nikhil, it will certainly reflect his identity."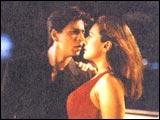 Johar compares asking an outsider to direct his film with a mother giving her child away, but is generous in praise for his debutant director, "Nikhil has lived up to the screenplay and crossed [it by] leaps and bounds. That thrilled me. He has lent it [the screenplay] his visuals in a way I thought I never could have."
What is common between these films is the presence of SRK, Kajol and Rani Mukerji. The presence of the latter two, confesses Johar, is purely out of superstition.
| | |
| --- | --- |
| | Also Read |
| | |
Having Shah Rukh Khan in every movie is a bonus according to Johar. "Shah Rukh Khan is the country's biggest star. Why wouldn't I cast him if he is willing to work in all of my films?"

What makes SRK different in Kal Ho Naa Ho is his character, adding, "His dialogues, speech and manner in which the character develops through those dialogues. He has never played a character like this before."

Music has always been a big draw in Johar's films. The soundtrack of Kal Ho Naa Ho composed by Shankar-Ehsaan-Loy aspires to follow suit. Johar echoes similar sentiments, "The music of Kal Ho Naa Ho is beautiful. It is a musical."

In Kal Ho Naa Ho, Johar has adopted a different technique in the narrative, "which one might not have seen in Indian cinema before," he claims adding, "You'll find out for yourself when you watch the movie."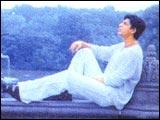 Elaborating on the film's 'live every moment' philosophy, Johar says, "Live for the moment. Happiness is for the moment. You never know what might happen tomorrow. Kal Ho Naa Ho celebrates life. That's the theme of our film. The belief of this movie is life is a gift given to us. The present is a gift. You should enjoy and revel in that gift."
Set in New York, Kal Ho Naa Ho is the story of a young girl Naina (Preity Zinta) and the changes her life goes through after she meets Aman (Shah Rukh Khan) and Rohit (Saif Ali Khan). "We based the story in New York because we wanted a flavour of New York in the film. We wanted to show how the Indian community lives there," explain Johar.
Denying rumours about Kal Ho Naa Ho being a remake of Anand, Johar says, "People tell me it is a remake of Safar. But it's neither Anand nor Safar. Both were classics. I would be very happy if it turns out to be a classic like Anand. But it's not Anand at all."
So what is Kal Ho Naa Ho about? "I don't want to reveal the plot. I want the audience to come to the theatres and watch the film," concludes Johar.
Click here for More Features