Dinesh Raheja

Joy Mukherjee, the second son of star maker Sashadhar Mukherjee, was like Bengal's famed mishti doi (sweet yoghurt) -- sweet and much sought after. He had bright eyes, raspberry red cheeks, Bryl-creamed hair (drawn in an elaborate puff), a sunny smile and a huge fan following.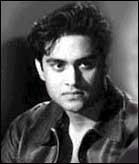 Joy, who animated many a romantic musical, enjoyed a heady eight-year stint in the coveted 'romantic stars' league.

Success played handmaiden to Joy from 1960-1967. His very first film, Love in Simla (1960), catapulted him to stardom. And he wasn't even the first choice for the role. Many newcomers, including Dharmendra, were considered for the project. But director R K Nayyar, desperate to get his maiden film on the floors, noticed producer Sashadhar's son, Joy, and convinced the final year BA student to sign on the dotted line.
Joy Mukherjee's landmark films

Year

Film

Co-stars

1960

Love in Simla

Sadhana

1962

Ek Musafir Ek Haseena

Sadhana

1963

Phir Wohi Dil Laya Hoon

Asha Parekh

1964

Ziddi

Asha Parekh

1967

Love In Tokyo

Asha Parekh

1967

Shagird

Saira Banu

1968

Humsaaya

Sharmila Tagore, Mala Sinha
Nayyar paired Joy with the attractive and screen-friendly newcomer, Sadhana, and the wide-eyed Azra. Sadhana's Audrey Hepburn fringe became the talk of the town, so did Joy's chocolate boy looks. In this breezy comedy about a bachelor who simultaneously loves two cousin sisters, Mohammad Rafi sang some lilting songs for Joy.

All through his career, Joy's popularity was propped by the sonorous songs that complemented his frat boy image. After all, who can resist jukebox favourites like Bahut shukriya and Aap yun hi agar from Joy and Sadhana's second film together, Ek Musafir Ek Haseena?
Despite a slew of O P Nayyar melodies, Ek Musafir… was initially rejected at the box-office. But a quick re-edit by director Raj Khosla made it more audience-friendly and the film gained in strength week after week.

From 1963, Joy teamed up with Sadhana's immediate rival, Asha Parekh, to collaborate on a hat-trick of musical hits. It was Joy's family banner, Filmalaya, which discovered both Sadhana and Asha. Joy was signed by Nasir Hussain to act opposite Asha in his first colour-saturated song-studded love story, Phir Wohi Dil Laya Hoon (1963).

Phir Wohi... became emblematic of Joy's image and was a silver jubilee hit.

Then came Pramod Chakravarthy's Ziddi, where Joy enjoyed himself taming the shrewish Asha. The film had even an elephant thrown in for good measure.

At the height of the craze for shooting abroad, Joy declared his love for a kimono-clad Asha fluttering an embroidered fan and false eyelashes in Chakravarthy's next, Love In Tokyo. Chakravarthy's gambit to cash in on Ziddi's success paid off. The film had audiences refusing to do a Sayonara as they returned for repeated viewings.

Parallel to Joy's treacle train of successes with Asha ran a vinegary train of disappointments with Saira Banu. Of the five films Joy and Saira did together --- Door Ki Awaaz, Aao Pyar Kare, Saaz Aur Awaaz, Yeh Zindagi Kitni Haseen Hain and Shagird -- only Shagird hit bull's eye.

Joy showed a fine flair for comedy as Johar's love guru in this golden jubilee hit. He also had a ball playing Casonava to village belle Saira.
Ironically, he didn't work with Saira after Shagird. Also, this was the last Joy film to click at the box office.
Joy Mukherjee's famous songs

 Song

 Film

Singer

Gaal gulabi kiske hai

Love in Simla

 Mohammad Rafi

Aap yun hi agar humse

Ek Musafir     Ek Haseena

 Mohammad Rafi-Asha Bhosle

Aaanchal mein saja dena

Phir Wohi Dil Laya Hoon

 Mohammad Rafi

Banda parwar

Phir Wohi Dil Laya Hoon 

 Mohammed Rafi

Le gayee dil gudiya Japan ki

Love in Tokyo

 Mohammad Rafi

Hum chhod chale hain mehfil  

Jee Chahta Hai

 Mukesh

Saaz ho tum awaaz hoon main

Saaz Aur Awaaz

 Mohammad Rafi

Woh hai zara khafa khafa

Shagird

 Mohammad Rafi-Lata Mangeshkar

Dil ki awaaz bhi sun

Humsaaya

 Mohammad Rafi

Haath aaya hai jabse tera

Dil Aur Mohabbat

 Mohammad Rafi-Asha Bhosle
The twin cause of Joy's decline was his decision to turn producer-director with Humsaaya and the entry of a younger Rajesh Khanna as the new romantic icon.

In a bid to earn legitimacy as an actor -- he had only acted in fluff fare so far -- Joy decided to give himself a meaty double role in Humsaaya. It was an earnest and expensive effort in which Joy played a spy who doubles as Chinese girl Mala Sinha's husband (also played by Joy) without taking his girlfriend, Sharmila Tagore, into confidence.
He spent lavishly on the production and blew up a bomb on stunts -- including a risky shot of a series of trucks being blown up -- that nearly cost him his life. He even got a lease of unexpected publicity when Mala Sinha and Sharmila Tagore broke into a cat fight on the sets and let the fur fly!
But the audience refused to give the film a fair chance. Joy lost both money and heart.

At the turn of the decade, he tried to pick up the gauntlet again by working in a series of films with ambitious starlets including Ehsaan (1970) with Anjana, Mujrim (1970) with Kumud Chuggani, Puraskar (1970) with Sapna and Kahin Aar Kahin Paar (1971) with Vimi. The brigade of B-grade flicks may have filled his emptied-by-Humsaaya coffers, but it drew the curtain on his career.

Joy tried to revive his career with Ek Baar Muskura Do (1972), which was a moderate success. In this family film, Joy co-starred with brother Deb Mukherjee and to-be sister-in-law Tanuja. The redeeming factor in this replete-with-stage-performances film was O P Nayyar's melodious music.

Ironically, films with big heroines, Love in Bombay (1974) with Waheeda, which he also directed, Saanjh Ki Bela with Nutan (1981) and Umeed with Nanda (1989) trickled in exiguously for the next 17 years of his career. But the heroines, like Joy, were now past their prime.

Joy did enjoy a brief stint of success when he directed Zeenat Aman and Rajesh Khanna in Chhaila Babu (1977). His unerring ear for music found expression in Yaar dildar tujhe kaisa chahiye and Main babu chhaila. But one swallow does not a spring make.

Bottom line is, true to his name, Joy will always be synonymous with the enjoyable, escapist fare of the sixties.