Ask any VCD salesperson for a mood-elevating movie experience and he will, in all probability, recommend a Mehmood film.
When he didn't overstep the mark into risqué antics or drippy sentimentalism, Mehmood could delight the viewer with pure physical comedy (he could make more faces than a barrelful of monkeys) and on-the-dot comic timing.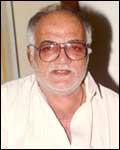 Son of Mumtaz Ali, a film and stage actor-cum-dancer, and brother of character-actress Minoo Mumtaz, Mehmood was born with a mile-wide funny streak. His mother once caught him at a railway station, attempting to run away from home, when he was still a child. When she angrily reminded him that even his clothes had been bought by his father, Mehmood quickly began to drop his clothes!
An enterprising youngster, Mehmood began earning money from an early age by doing odd jobs. He sold poultry products and even taught table tennis to Meena Kumari.
After he married Meena Kumari's sister Madhu and sired a son, Masood, in the early 1950s, Mehmood felt a pressing need to supplement his meagre income. Desperate, he began to accept bit roles in films. On hindsight, one recognises Mehmood in tiny roles in films like Do Bigha Zameen and Pyaasa, but in those days he went unnoticed . A self-respecting man, he was keen to make a niche for himself without any help from his famous sister-in-law.
Mehmood's landmark films

Year

Film

Co-stars

1961

Sasural

Shubha Khote

1965

Gumnaam

Helen

1966

Pyar Kiye Jaa

Mumtaz

1966

Love In Tokyo

Shubha Khote

1967

Patthar Ke Sanam

--

1968

Padosan

Sunil Dutt, Saira Banu, Kishore Kumar

1968

Aankhen

--

1970

Humjoli

Aruna Irani

1971

Main
Sundar Hoon

Leena
Chandavarkar

1974

Kunwara Baap

--
Mehmood enjoyed his first spin under the spotlight when he played Raj Kapoor's brother in Parvarish (1958) where he had a footage-heavy, emotional role.
Despite his sprightliness, Mehmood was not instantly categorised as a comedian. At the turn of the 1960s, Mehmood even played the hero in small films opposite starlets like Chitra, Naaz and Ameeta. Mehmood cast Ameeta as the heroine in his first production Chhote Nawab (1961), where he gave a break to his friend-cum-composer, R D Burman.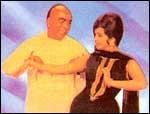 Mehmood's south Indian film phase began with the success of Chhoti Bahen (1959). Despite a peripheral role in this brother-sister weepie, Mehmood was flooded with films from down south, including Sasural, Hamrahi and Zindagi.
Sasural (1961), a three-hankie melodramatic mega-success, was Mehmood's big breakthrough film as a comedian. What's more, Sasural created one of the most successful comedy teams of the sixties -- Mehmood and Shubha Khote. The plump and genial Shubha went on to partner Mehmood in most of his mad capers till the mid-sixties -- including Grihasti, Bharosa, Ziddi and Love In Tokyo.
Mehmood and Shubha were even allotted several hit numbers of their own. At the insistence of distributors, a song picturised on Mehmood became a must in most films of the sixties. Manna Dey, a recognised classical singer, was singled out for singing many of Mehmood's naughty numbers.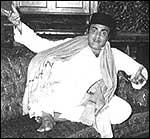 In the mid-'60s, to further buttress an already growing career, Mehmood hit pay dirt with a sleeper hit, Johar Mehmood in Goa (1965), where he was not just a comedian, but also one of the main leads. Mehmood's no-holds-barred comedy provided the flint to I S Johar's subtle, cynical humour, and the sparks flew. But their later attempts at comedy, including Johar Mehmood In Hong Kong, could not recreate the same magic.
Mehmood's Famous Songs

Song

Film

Singer

Mama o mama

Parvarish

(Manna Dey, Mohammed Rafi)

Apni ulfat pe zamane ka na pehra hota

Sasural

(Mukesh, Lata Mangeshkar)

Woh din yaad karo

Hamrahi

(Mohammed Rafi, Lata Mangeshkar)

Pyar ki aag mein tan badan jal gaya

Ziddi

(Manna Dey)

Aao twist kare

Bhoot Bangla

(Manna Dey)

Yeh do deewane dil ke

Johar Mehmood in Goa

(Manna Dey, Mohammed Rafi)

Hum kaale hai toh kya hua dilwale

Gumnaam

(Mehmood, Mohammed Rafi)

O meri maina tu maanle mera kehna

Pyar Kiye Jaa

(Manna Dey, Usha Mangeshkar)

Tujhko rakhe Ram tujhko Allah rakhe

Aankhen

(Asha Bhosle, Manna Dey)

Jodi hamari jamega kaise

Aulad

(Manna Dey, Asha Bhosle)

Ek chatur naar

Padosan

(Mehmood, Manna Dey, Kishore Kumar)

Yeh kaisa aaya zamana

Humjoli

(Mehmood, Mukesh, Kishore Kumar)

Muttu kullika

Do Phool

(Mehmood, Asha Bhosle)

Saj rahee galee meri amma

Kunwara Baap

(Mehmood, Mohammed Rafi)
Famous for his fusillade of funny moments, two of Mehmood's most remembered roles were in Pyar Kiye Jaa (1966) and Padosan (1968).
In Pyar Kiye Jaa, he played an aspiring film director who wants his father (Om Prakash) to finance his banner, Wah Wah Productions. Narrating a ghost story to a frightened Om Prakash, Mehmood interspersed onomatopoeic sounds like 'Waoo, waoo, kudu kudu, kach kach kach' into an imbecilic story of a chudail (witch) to create a scintillating scene. Also, his efforts to make a wide-eyed, village belle Meena (Mumtaz) a top film star are hugely hilarious.
In Padosan, Mehmood played the choti-sporting, lungi-clad, south Indian music teacher enamoured with his shishya, Bindoo (Saira Banu). His classic riposte, 'Aye sur badla, aye phir bhatkaya [You changed the tune again and confused me]' sung in response to Kishore Kumar's masterful twisting of the tune of Ek chatur naar evoked laughs galore.
By the late sixties, he was heralded as the monarch of madness, with successes like Patthar Ke Sanam, Do Kaliyan, Neel Kamal, Aankhen and Aulaad releasing one after the other. Mehmood was a master at playing the hero's friend, who would help him out of sticky situations with his street-smart ways.
Unfortunately, his popularity, according to the grapevine, rankled the ruling heroes of the day. What further restricted Mehmood was his preference for playing central roles in early seventies films like Main Sundar Hoon, Lakhon Mein Ek, Mastana and Do Phool. As his career lost its early heat, Mehmood also resorted to producing his own films (Bombay To Goa, Kunwara Baap, Ginny Aur Johny) to stay in the limelight.
A magnanimous man, Mehmood promoted many talents like Amitabh Bachchan and Aruna Irani (he gave them lead roles in his rollicking road comedy, Bombay To Goa). The straight-faced, attractive Aruna (Aulad, Garam Masala, Naya Zamana) provided the ideal foil to his funny antics.
But Mehmood was now overreaching himself. He overdid the glycerine act, while his comedy sometimes became off-puttingly lewd and loud. His breaking off with his pardner-in-laughs Aruna and the failure of his films gave anonymity an opportunity to engulf him in its clutches by the start of the eighties.
Today, Mehmood keeps indifferent health and largely lives at his Bangalore farmhouse. But his comedy continues to be prescribed as the panacea for the depressed and the downcast.