Pushed into the science stream by his parents, he had to appear twice to clear his standard XII exams. They then forced him to join an engineering college; he had to appear thrice to clear his first year exams.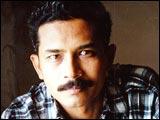 Finally allowed to join the arts faculty as per his wish, he topped at the graduation level.
Atul Kulkarni, 37, is still the same -- he delivers his best when allowed to follow his calling.
Trained at the National School of Drama, Delhi, he surprised very few when he walked into the role of Mahatma Gandhi in the Chandrakant Kulkarni-directed Marathi play Gandhi Viruddh Gandhi, opposite veteran Marathi actress Bhakti Barve.
Soon, he was playing the same role in the Hindi (opposite Seema Biswas) and Gujarati (opposite Minal Patel) versions of the play.
When cinema beckoned three years later, he won two National Awards for his first two Hindi films -- Kamal Haasan's Hey! Ram and Madhur Bhandarkar's Chandni Bar. Those who have seen him in Bhandarkar's Satta bet he looks good for many more.
The versatile actor tells Anjum N he is now looking forward to the release of Kushan Nandy's 88 Antop Hill, where he plays the lead role for the first time.
You play the lead in 88 Antop Hill. Could you tell us more about the film and your role?
I play an ordinary, middle-class man called Pratyush Shelar. He is a simple person who lives in the city with his wife and daughter. One day, he receives a call that changes his life, turns it upside down.
The film is a murder mystery and the audience will see events unravelling via the character of Pratyush, who is on the run throughout.
Most of your characters have realistic-sounding names -- Sriram Abhyankar (Hey! Ram), Potya Samant (Chandni Bar), and Yeshwant Vardhe (Satta). Is it just a coincidence or do you request directors to give you names that will help the audience identify with your role?
[Laughs] No, I haven't suggested any of these names to my directors.
Actually, the entire trend is changing. Today, directors are willing to experiment with their films and characters. Storylines are also changing. So characters get names that may otherwise not have been used. This is not true only with the films I am doing or the roles being offered to me. I just happen to be here at a time when the entire filmmaking process is changing. It has nothing to do with me. I am only an actor.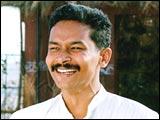 The roles you've done have been varied. You played a Hindu ideologue in Hey! Ram, an anti-social in Chandni Bar, an ambitious politician in Satta, a corrupt cop in Dum, a common man in 88 Antop Hill.  Have you been lucky or are you consciously trying to avoid getting typecast?
I am trying hard not to take on roles similar to what I have already done. If you have been accepted and appreciated in a particular role, the industry finds it convenient to slot you in that image. You can't blame them actually -- a lot of money is involved.
It is important for an actor not to get stuck with an image. I got a lot of offers to play Potya Samants after Chandni Bar. But once I had done that role, there was nothing more in it for me.
I was fortunate that among the numerous roles being offered to me, I had a choice. If there were four Potyas or Inspector Shankars (Dum) being offered, there was always a fifth film that had a role I hadn't done before. So it wasn't like I had to accept what was being offered.
You are still establishing yourself as a versatile actor. Don't you fear these refusals will offend filmmakers?
I make it a point to speak to the directors and tell them why I don't want to do a particular role or film. If, despite that, they hold it against me, I cannot help it. I cannot do things that I don't want to just to please someone else.
You are not part of Bhandarkar's Aan. He says the role he had in mind for you turned out similar to the one you did in Dum, and he did not want you to do a repeat. Does this type of understanding help maintain good relations?
Yes, of course. We understand each other quite well, and he knows I wouldn't want to do the same role twice.
When he offered me politician Yeshwant Vardhe's character in Satta, many asked him if the choice was right. They were not convinced I could also play a sophisticated, soft-spoken and well-dressed politician because I had played a streetsmart anti-social in Chandni Bar. But Madhur knew what he was doing.
Now, it has become a challenge for Madhur and me to do something totally different when we work together again. We both wish to make a comedy together.
Talking of comic roles, which are your favourite comedy films?
Chupke Chupke, Golmaal, Angoor. All of Govinda's films. If you leave the storylines aside and watch only his performance, there is no beating his timing. He's such a joy to watch.
I hope I get some good comedy films too.
What other films do you have in hand?
I am doing an English film called 1:1.6 -- An Ode to Lost Love, directed by cinematographer Madhu Ambat. The film stars Rati Agnihotri, Sonali Kulkarni, and newcomer Masoomi.
Then there is Rajkumar Santoshi's Khakee [Amitabh Bachchan, Ajay Devgan, Akshay Kumar, Aishwarya Rai, Tusshar Kapoor] and Rakesh Mehra's Rang De Basanti, for which we will start shooting in July.
You have worked with stars who use exaggerated mannerisms and stylish gimmicks in their performances. On the other hand, you seem to rely on a more subtle, sober, and controlled style of acting. Don't you feel threatened that others may steal scenes or that your role may get sidelined?
No. What is most important is your conviction, your confidence in the role, and your style of acting. If that is absent, other actors can sideline you even if they perform like you. Fortunately, no one has ever told me I need to act a bit louder or deliver my lines at a higher pitch. Of course, if a director tells me to do that, I will have to. But that has not happened yet, and I haven't felt the need to myself.
Does this mean you would not be comfortable doing unbelievable, larger-than-life characters like, say, Mr India's Mogambo or Shaan's Shakaal?
No. I would love to do such roles also. They are harder than playing realistic characters you see in daily life. Like, when I played Potya Samant, I visited some dance bars and watched how people behaved. But you cannot do that with these make-believe characters.
I admire actors like Amitabh Bachchan and Madhuri Dixit for the same reason. I admire Naseerbhai's [Naseerudin Shah] role in Tridev. The role was so commercial and unbelievable, but the conviction with which he did it... it was worth seeing. I would love to do roles like that.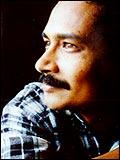 Are you looking forward to the release of 88 Antop Hill? You must be nervous and excited as you play the lead for the first time.
Yes, of course, I am looking forward to its release. Not just because I play the lead role, but also because it's a murder mystery and I have never done a film in that genre before.
I have seen the film's trial and I must say it has come out really well. Kushan has worked on the technical side of the film very well and it has come out decently.
My role in the film has also been developed well. Despite being a suspense thriller, it has given us scope to perform, which murder mysteries usually don't. One expects good performances in a film like Chandni Bar, where the story is supposed to be all about characters. But when it comes to suspense films, one does not expect actors to have much scope to perform. But Kushan has given me a fantastic role. That is one reason why I am looking forward to people's reactions to my performance.
External Link:
Atul Kulkarni's personal Web site